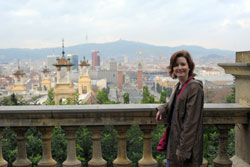 As I lay on my half of the small bed in our Barcelona apartment, trying to find a comfortable sleeping position without hitting my head on the sharp nightstand crammed against the bed, awake at 2am because of some combination of street noise and the clicking and clattering of the old space heater in our bedroom, it occurs to me how many misadventures it often takes before you get to the good stuff…

We began our journey to Barcelona with an easy flight from St. Louis to New York, and plenty of time during our layover to grab lunch in Korea Town, less than 2.5 miles from La Guardia airport. Unfortunately, our taxi driver hadn't yet learned his way to Queens.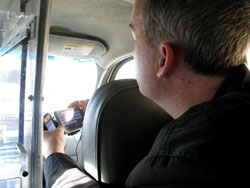 After getting directions once in English and a second time in his native language, then going the opposite direction, getting lost, realizing he had a GPS the whole time, convincing Chris to program it for him, and then ignoring the GPS directions, missing multiple exits and turns, the driver finally got us to the restaurant.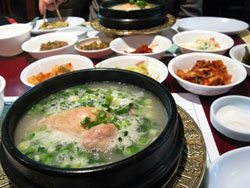 Lunch at Young Yang Center was amazing. We each had a pot of Sam Gae Tang, a ginseng-laced chicken soup, containing a miniature whole chicken stuffed with rice and chestnuts. I had been craving it since I left Korea in 2008.

Chris had been craving Kimche, and was happy to find three different varieties included among our side dishes. By the time we ended our meal with a few sips of cool, refreshing Korean desert tea, we knew it had been worth the effort.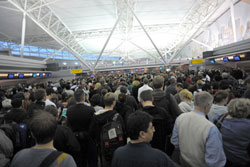 After lunch, we headed to the airport with plenty of time to catch our flight out of JFK. When we arrived, we found the security line wrapped around the inside of the terminal, at a complete standstill. After a while, we were herded out of the building and then back in a few minutes later without any explanation.

We eventually learned, via twitter and online news, that a security breach had been caused by someone in an airport lounge who went out the wrong door, triggering a full evacuation of the terminal.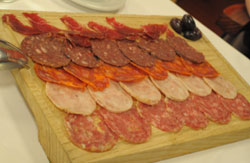 After screening the mass of people who had been waiting for hours in the non-secure area, and re-screening all employees, vendors, and passengers who had been evacuated from inside the terminal, they finally started allowing planes to take off again, and we made it to Barcelona.


In Barcelona, we found a great place for lunch called Gran Paris, where Chris and I shared a plate of cured Spanish meats, and I had one of my favorite dishes in Spain--braised bull tail. Chris had delicious hand-made cannelloni, stuffed with fresh cod and shellfish.

That evening, we found an English pub showing NFL playoff games via satellite. We met a gaggle of friendly Englishmen and assorted expats and had a great time watching Brett Favre and the Vikings pummel the Cowboys. It was a great first day in Spain!

Then… I woke up around 4am with a violent case of food poisoning. Our best guess was that it was the chicken club sandwich at the pub that had finally done me in. Not long after, Chris started feeling ill and we spent nearly two days in the hotel room.

Tonight is our first night in the apartment where we will spend the rest of our vacation. Tomorrow, we'll find out what's next.

Recommended Restaurants:

Young Yang Center
aka Korean Natural Health Center
160-26 Northern Blvd
Queens, New York
718-888-0200

Gran Paris Restaurant
Muntaner, 182
Barcelona, Spain
http://www.granparis.com/