This weekend, Chris has reached a new level of culinary insanity known as Momofuku...

Yesterday, he spent the day making steamed pork buns with roasted pork belly and pickled cucumbers. At the end of a long and complex process, he produced something highly delicious and beautiful that he described as a complete failure because the buns were slightly misshapen.

Today, he is attempting to make ramen noodle soup from scratch—not the instant kind you may remember from college that set you back 20 cents and cooked in 3 minutes. This is the hard core version usually reserved for chefs who have apprenticed under a ramen master for years, renouncing all other noodles to dedicate their lives to the craft.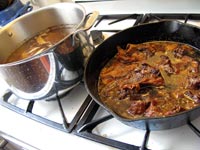 He started first thing this morning roasting pork bones, which cooked for hours in his previously made-from-scratch chicken stock, flavored with his own homemade bacon. Then, he made mushroom stock from dried shitake mushrooms and seaweed, and added it to the pork/chicken stock to make the soup base.

Now, he's making taré sauce to use for seasoning, which he started by roasting chicken bones, deglazing the pan with sake and making yet another stock. Once he has the soup stock and taré finished and strained –a few hours from now—he still needs to add the vegetables, some of which will be sautéed or otherwise prepared independently before they go into the soup.

Fortunately, he has enough roasted pork belly leftover from last night's pork buns to go into the soup, and he will be using fresh lo mein noodles we found at the Asian supermarket instead of trying to make his own ramen. So it's possible we will finally get to eat it tonight for dinner.

---UPDATE----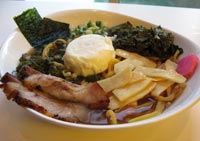 As if there were any doubt, it was delicious!! Topped with roasted pork belly, greens from the garden, nori seaweed, bamboo shoots, sauteed okra, and poached egg.
Read More...