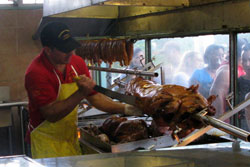 After a few weeks off the road and off work, I was ready for an actual vacation during my time off. To decide where to go, I turned to my usual vacation search criteria: cheap flights to a warm destination, preferably outside the Continental US. For the second time, Puerto Rico came out on top...

The last time Chris and I visited Puerto Rico in 2006, we spent very little time in San Juan before heading off to Vieques island off the east coast and then to Tortola in the British Virgin Islands. We stayed at quaint local resorts and swam in a bioluminescent bay. It was amazing.

This time, we needed something simple and economical. After all, it had been more than a month since my last paycheck and we still hadn't sold either of our rehabbed houses.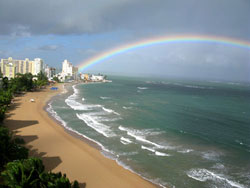 I only booked flights, hotel, airport parking, and car rental that could be paid entirely by frequent flyer miles or other loyalty points.

With so few choices, the entire trip was confirmed within a few hours---a tiny fraction of my typical vacation planning time, at a tiny fraction of the typical cost.

For the most part, the experience of staying at the Marriott by the beach in Puerto Rico was about the same as staying at the Marriott by the beach in Florida...or any other cruise ship port of call. It was heavenly to sit on the balcony watching and listening to the crashing waves below, and always a delight to be surrounded by fresh seafood options. But nothing felt especially Puerto Rican...until we remembered the pigs.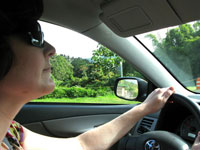 Chris was the first to remember that Anthony Bourdain had done a No Reservations show in Puerto Rico and raved about the BBQ suckling pig he found just outside San Juan. So after a couple of relaxing yet uneventful days at the beach, we headed off in search of adventure--and BBQ pork.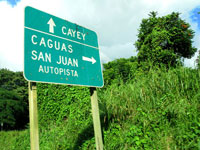 It was a warm Sunday afternoon in San Juan, and customary for locals to head to the mountains for music, dancing, BBQ, and cool mountain breezes. Our destination: Lechonera Los Pinos in the Guavate neighborhood of Cayey, Puerto Rico.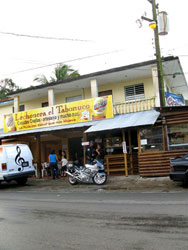 Lechoneras (pork restaurants) and makeshift souvenir stands peppered the narrow, winding road up the mountain to Los Pinos. Although the hand-carved masks and other souvenirs looked interesting, and I'm sure they would have been cheap, the idea of pulling over on the side of a steep, curvy mountain road with no shoulder was a little too scary to risk it.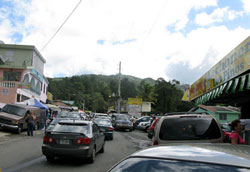 As we approached the cluster of popular Lechoneras, the traffic started slowing down and we could see up ahead that most of the parking lots were already full. We had done enough research to know to head out early, but still missed our noon target by almost two hours.

We managed to find a muddy parking lot in the grass, just off the road past Lechoneras Los Pinos, with spots available for $4. We practiced our [really poor] spanish as we tried to figure out where and how they were directing us to park.


At Lechoneras Los Pinos, there was already a long line out the side of the building, waiting to place an order at the counter.

Based on the pile of discarded pig heads, we guessed they had already gone through at least 4 whole pigs, but fortunately it didn't look like they were in danger of running out before we made it to the counter.

As we waited, we tried to figure out how and what people were ordering so we would know what to do when we got up there.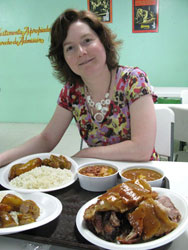 We soon realized there was no menu of any kind, not even in spanish. I had assumed we would at least have multiple choice, possibly with pictures.

By the time we reached the counter, we realized we had very little chance of communicating exactly what we wanted and were prepared to eat and enjoy whatever we ended up with.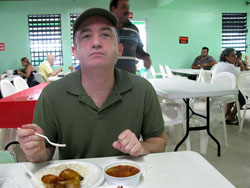 After a few minutes trying to understand my spanglish babbling, the order-taker politely asked us to wait while he found a fluent english speaker to take our order.

We ended up with a delicious assortment of pork, crispy pork skin, chicken sausage, fried plantains, red beans, and rice for less than $20. I suspect our price may have included a foreigner premium, but it was well worth it.


Lechonera Los Pinos
Barrio Guavate
Carr. 184, Km. 27.7
Cayey, PR 00736
(787) 286-1917

If you're interested in Anthony Bourdain's take on the same restaurant, fast forward to 5:23 of this video: Anthony Bourdain in Puerto Rico