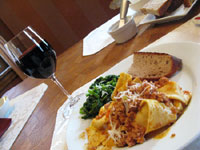 It has been a while since I've posted any new stories, but I'm starting to feel a glimmer of inspiration returning. Life has been very hectic for the past six months. Most weeks, I have been on the road 4-5 days per week, and the few days at home were split between work, family, friends, and house rehab. But not today. Today is Tami time...

It is 2pm on a Saturday afternoon and I'm still in my pajamas, about to kick off a Lord of the Rings marathon as soon as Chris leaves for work. He's shooting a wedding today.

It's been a while since I dusted off my special extended edition DVDs containing 12 continuous hours of LOTR viewing pleasure. I don't know if I'll actually make it through all three movies before having to stop to do something more constructive, but I'm going to try.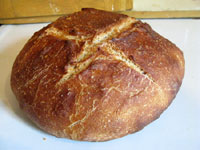 It's really shaping up to be a great weekend. I got home on Thursday evening to find Chris in the kitchen, stirring a pot of made-from-scratch bolognese sauce to go with the fresh pasta and crusty bread he had also just made from scratch.

I was just telling someone last week that Chris wasn't much of a baker. Wow, did I get that one wrong. It was some of the best bread I've tasted, and it was only his first try.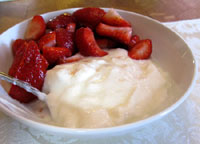 Friday morning, for breakfast, we had some of his homemade whole milk yogurt with fresh strawberries, and toasted bread with honey.

Unfortunately, we only had store-bought butter for our toast since it's been a couple of weeks since Chris has churned his own--seriously, he's making his own butter these days.

I think Chris and I are both starting to feel creative again now that the Sidney house rehab is done. That was a lot of work. I've also just finished a work project in Connecticut and should have more time in St. Louis in the next few weeks, so that helps too. Maybe I'll finally get around to posting a few stories from our trip to Argentina last December.