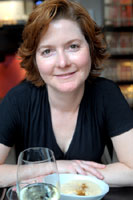 In the week since Chris and I returned from Argentina, we have been mostly vegetarian. We over-indulged in Buenos Aires, with meals ranging from big portions of perfectly grilled meats to big portions of salad and fresly made pasta. The only meal that didn't include large portions was a 12-course tasting menu that took 3 hours to eat...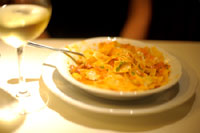 I managed to eat more steak in two weeks in Buenos Aires than I normally would have eaten in several months, without gaining weight. I actually lost a few pounds. I guess it probably helped that we walked a lot in between meals. Maybe this is where they discovered the low-carb diet.

However it happened, it was a good thing for both of us to lose some weight. We came home determined to continue the weight loss trend and also determined to eat fewer animals for a while.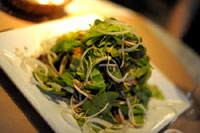 It helped that Chris was inspired by the challenge of cooking with no meat and has been getting creative in the kitchen. I never realized you could make so much out of beans and various grains.

Our other inspiration came from my cousin, Ashley, who told us about her "senior project" when we were together for Christmas. While many of her peers are doing projects that range from repairing an old car to painting their bedroom, Ashley has decided to go to Honduras to personally feed the hungry and teach them to grow their own food.


She is in the process of raising the money to take with her to Honduras to buy the food, and has an interesting sales pitch. Rather than just donate money, she is asking people to eat nothing but rice and beans for 3 days and then donate the money they would have spent on more extravagant food. This way, the people supporting her project will have a stronger connection to the starving people of Honduras who survive only on rice and watery beans.

Although we're not yet in our official 3-day beans and rice marathon, we have eaten beans nearly every day this week. Chris made a simple yet delicious pot of pinto beans with rice yesterday for less than $3. It was enough to feed us for at least 2 days.

In spite of having plenty of leftover black bean dip, spicy white beans with tomatoes and squash, pinto beans with rice, and buckwheat noodles with tofu, I'm going out to dinner with friends tonight and will probably insert some meat into my diet.

Read More...