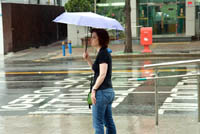 A few weeks ago, Chris met up with me in Seoul. The plan was for him to relax for a few days and adjust to the new time zone while I finished my work project, and then we would spend some time exploring Seoul and Beijing together before returning to the US. However, a few hours after Chris arrived, I received word that my dad had died in a farming accident. Chris was in South Korea for less than 24 hours before getting back on a plane for the long journey home...

I will be at home for two more weeks before returning to work. I'll try to post a few more pictures and stories from South Korea soon.

To learn more about what has happened and how I've been spending my time at home, you can visit http://halefarms.blogspot.com/.