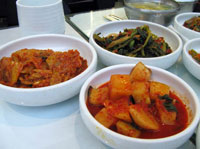 Before my South Korea trip was cut short, I wrote about working conditions and ongoing protests against American beef imports. I never got around to writing about one of the best parts of Seoul--the food. Although I wouldn't recommend traveling to South Korea solely to experience their culinary prowess (as I might for Southern China), there are a few exceptional dishes that shouldn't be missed if you ever find yourself in Seoul...

Before I get into what to eat, I should let you know a little about how people eat in South Korea. As in China, it's always best to eat a meal with locals. Although many restaurants have portions of their menu translated into English, the English section is usually only a sampling of what they have to offer so not knowing Korean is a major disadvantage.

Unless you go to an Outback Steakhouse (which are everywhere in Seoul and not a bad choice for a reasonably priced American meal), don't expect the people working in the restaurant to speak English.

South Korean food is spicy---really spicy. I love that about it. The South Koreans have a very high tolerance for spicy foods, but they are also sensitive to the needs of others. They always have an eye out for a foreigner in distress and will bring out mild foods or broths to balance out the spiciness if you appear to be struggling. I recommend ordering steamed white rice to have on hand just in case. It works great for cooling off a tongue on fire.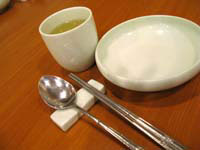 South Koreans eat with unusual chopsticks. They are either flat or square, made of stainless steel, and much skinnier than the Chinese or Japanese versions. I find them relatively easy to eat with, especially compared to slippery plastic Chinese chopsticks.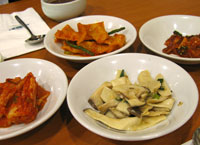 Most often, when eating with a group, each person will order his or her own main dish and share a bunch of side dishes, also known as service items. The side dishes come automatically, and are the same for everyone eating in the restaurant that day.

You can always ask for unlimited free refills of side dishes, which often include at least one variety of kimche and maybe a few other vegetable or egg dishes, and/or soup. To ask for a refill, just tell your server you want more. If there are communication problems, you can just point to the empty dish and they will probably understand.

One difference between sharing dishes in China vs. South Korea is that you don't usually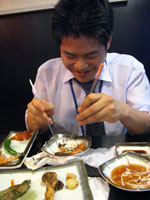 get a bowl of your own in South Korea, just a plate. So if there is a big bowl of soup that the table is sharing, people take one spoonful at a time, rather than ladling a portion into their own personal bowl.

The other main difference in eating style is that South Koreans often use their chopsticks or spoons as knives, and have no problem taking one chopstick in each hand and poking and slicing however necessary to remove a part they don't want to eat or to cut something into bite-sized pieces. The Chinese typically use their teeth for such things.

Now that you know the basics, you're ready to experience the flavor of Seoul for yourself. Below is my top 10 list of things to taste in Seoul.

If you print out the list, you should be able to find your way to the restaurants and order the right thing via pointing at the Korean phrases below.







#1 Chicken Soup with Ginseng: 삼계탕 (Sam-gae-tang). This is one of the most delicious chicken soups I've ever tasted. When we found out Chris would have only one meal in Korea before returning home, I took him to 토속촌 (Tosok-Chon), located 서울시 종로구 체부동 85-1 (경복궁 역 뒷 편: Near Kyongbok Palace Station), which is one of the 3 most famous Samgaetang places in Seoul.

Imagine a stone bowl of boiling hot fresh chicken broth with ginseng root, each bowl containing your own personal whole chicken which has been stuffed with sticky rice and chestnuts and tied up like a turkey. Samgaetang is served with a shot of cold ginseng liquor on the side, which you can drink straight or pour into your soup.

Just add salt to taste and enjoy. There will be a bowl of salt served with your chicken soup, along with an empty bowl so you can scoop some chicken and broth out of the boiling hot stone bowl and let it cool before you eat it. There will also be a stainless steel bucket to discard your chicken bones.



#2 Steamed Beef Ribs: 갈비찜 (Galbi Jim). These are the most flavorful and tender beef short ribs I've ever had, which is saying a lot since Chris really knows how to braise a short rib. The galbi jim are cooked in the middle of the table in a large pot with beef broth and lots of vegetables. There are a multitude of side dishes around, including kimche, various sauces, vegetables, noodles, and lots of beautiful fresh leaves of raw lettuce, cabbage, and other greens that can be used as wrappers.

South Koreans love to wrap their food. The way to eat galbi jim is to take your wrapper of choice then put meat, sauce, kimche, noodles, whatever inside and roll it up and eat it. This is something you can do with your hands, although highly skilled South Koreans can sometimes do it with their chopsticks. In addition to getting a delicious and surprisingly healthy meal, you will also get a very traditional South Korean culinary experience.

Where to find galbi jim: 수원 왕갈비 (Suwon Wang Galbi) located 서울시 중구 명동 2가 32-14 (Seoul Jung-gu Myung-dong 2 Ga 32-14) .



#3 Grilled Fish. The South Koreans use very simple preparation for their grilled fish, which is most often seasoned only with salt. Somehow, they manage to grill the fish to perfection every time, with crispy skins and tender juicy flavorful meat inside. I've had enough delicious grilled fish in enough different types of restaurants that I feel comfortable saying that if you can find grilled fish in Seoul (and it's everywhere), you won't be disappointed.

The only challenge can be getting the bones out. I learned a number of tricks from my South Korean friends that can help with this. For example, sometimes you can take out the whole backbone first to avoid having to pick out individual bones that break off if you dive into the meat first. In any case, it's always best to order a fish with big bones.

A great Japanese restaurant with grilled fish and udon soup is 이끼이끼 (Ikki Ikki), located 서울 파이낸스 센터 지하2층 (Seoul Finance Center B2). Order the 갈치 구이 (GalChi Goo-Ee). This restaurant is well known for its sushi, sashimi, and yakitori so you might want to try this too. Keep in mind all Japanese food in South Korea is prepared South Korean style by South Korean chefs, so it will be different from what you would find in Japan.

Many Japanese foods, especially udon noodles and fresh sashimi, are quite delicious the South Korean way, although I prefer the traditional soy sauce with a touch of wasabi for dipping my sashimi, rather than the strong spicy chili sauce they recommend.



#4 Shabu Shabu: Meat and vegetables in a pot of boiling broth, cooked at your table. The South Korean version of Japanese Shabu Shabu is quite delicious, although the broth is a touch heavier than Japanese style. In South Korea, your server might even offer to cook everything for you in the big pot and serve it to you in your bowl, with no self-service cooking required.

At the end of the meal, they use the leftover broth from the cooking pot that has been soaking up all the meat and veggie goodness during your meal and add rice to make a tasty porridge. Good luck saving enough room to eat more than a few bites of the porridge.

Here's where to find great Shabu Shabu in Seoul: 일품당 (Ilpumdang), located 서울시 종로구 당주동 16-1 (세종문화회관 뒷 편: Behind Sejong Art Center)



#5 Pork and Kimche soup with noodles: 김치찌개 (Kimchi Jigae) and steamed egg roll: 계란말이 (Gaeran Mali). Before I tried this, I was skeptical of putting kimche in soup because I thought the strong flavor would overpower everything else in the bowl. However, it was really delicious and not at all what I expected.

You can find it here: 광화문집 (Gwanghwa Moon Jib) located 서울시 종로구 당주동 43 (광화문 역 8번 출구 GS 25 옆 골목 안쪽 오른쪽 첫번째 집: Gwanghwa Moon Station (Line #5) Exit 8, go to Alley next to GS 25(Convenience Store) and it's the first restaurant on right)


#6 Chinese Dim Sum. Dim Sum, known as "morning tea" in China, is China's version of brunch and one of my favorite meals. The best global chain for Chinese dim sum has to be Din Tai Fung (딘타이펑) located 서울시 중구 명동2가 104번지 (across from Lotte Department Store) .

You can find this restaurant chain in major cities all over the world, and it's always a good choice. I would highly recommend the dumplings -- for two people try an order of Dumplings 01 and 11, along with your choice of soup.

Here's the American website as a reference: http://www.dintaifungusa.com/.



#7 Grilled Beef (갈비). Koreans are known for grilled beef, and although I wouldn't rate it nearly as high as the steamed beef ribs, they are definitely worth a taste. The seasoning they use on their seasoned beef 양념갈비 (Yangnyum Galbi) is a little too sweet for my taste, so next time I would probably go for the unseasoned beef 갈비 (Galbi) instead. As with other traditional South Korean dishes, this one comes with lots of side dishes and sauces that should be wrapped up together with the beef, in lettuce or other green leaves.

The best way to end a meal of grilled beef in the summer is with a bowl of cold noodles 냉면 (Naeng Myun).

Here are some great places to go for grilled beef:
형제갈비 (HyungJae Galbi) located 서울시 서대문구 창천동 31-35 (연세대 정문과 신촌역 중간쯤 위치: Near Yonsei University & Shinchon Station)

참숯골 (Chamsoot Gol) located 서울시 중구 무교동 19 체육회관 빌딩 (서울 파이낸스 센터 뒷편: Behind Seoul Finance Center)


#8 Traditional South Korean Set Menus. There are plenty of traditional South Korean restaurants, where you can order set menus that come with a variety of dishes to share, for a minimum of two people. You just pick a menu and the food starts flowing without having to give it anther thought.

One great place to try: 석파랑 (Seokparang) located 서울시 종로구 홍지동 125 (상명대 앞 삼거리: Near SangMyung University).



#9 Kimche. No trip to South Korea is complete without sampling the Kimche. It ranges from set-you-on-fire spicy, to more mild, tangy, sour, or sweet varieties. The mildest is water kimche, which is slightly sour and served like a soup. The most common is spicy pickled cabbage or radish in chili sauce, served as a side dish to almost everything.

In 5 weeks, without even trying, I sampled 10 and 1/2 different varieties of kimche. With guidance from my South Korean friends, I only counted the Chinese kimche as 1/2, since it wasn't "real" South Korean kimche.

Where to find it: everywhere. You won't have to worry about finding kimche, it will find you.
#10 Noodles, Noodles, Everywhere. One of my favorite things about eating in Asia is the seemingly endless variety of noodles. Everywhere you go, you can find options for Udon (my favorite), Ramen, or Buckwheat Soba noodles, with or without soup, with any combination of meat, vegetables and/or seafood, served hot or cold, spicy or mild.

Beware, sometimes your bowl of noodle soup will be at a full boil when it arrives at your table. In this case, it's best to use an extra bowl to scoop out a little soup to let it cool before you try it.
Special thanks to my colleague, Jihyun Park, for guiding me on my culinary adventures through Seoul.