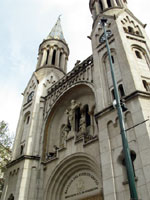 After a few weeks off with my family in Missouri, I headed South for a work project in Argentina. It was my first visit to one of the "other" Americas, and my first project in a Spanish-speaking country since my Spanish obsession of 2005. I had less than a week to spend in Buenos Aires, and a lot of work to get done, but I managed to catch a brief glimpse of this intriguing South American city...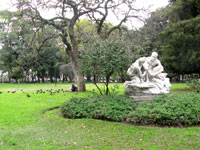 For me, Buenos Aires felt like a highly personable, customer-service oriented version of a major European city. There was this positive energy gushing from the Argentinean people, as if they had given up trying to contain themselves and decided to allow their overwhelming delight to spill out onto everyone around them. It didn't seem to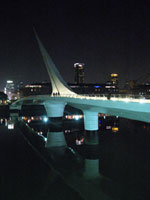 matter that it was cold and rainy in the middle of their winter.

It was the first city in the world where I've been compelled to smile and say "no, thank you" to those annoying strangers who try to hand you advertisements or sell you something as you walk down the street. The first time I employed my standard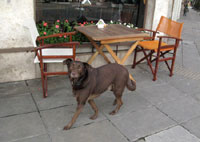 response--essential in more aggressive cities--of alternatively glaring at and ignoring the person invading my space, his reaction convinced me that he had actually been wounded in the process.

The porteños (people of Buenos Aires) also seem especially friendly to dogs and children. Pet dogs seemed to be as much a part of the community as the people.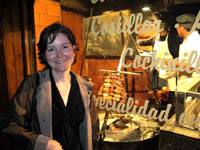 The food in Buenos Aires is quite remarkable. Of course, it is easy to find great barbequed meat at a local asador, which is what Argentina is best known for. The meat is lightly seasoned with a great smokey flavor. I was fortunate enough to taste beef short ribs, steaks, and lamb shoulder at a traditional asador called Estilo Criollo, as well as Argentinean-style beef ribs accompanied by internationally inspired sauces and side dishes at a more modern place called La Cabrera. Both asadors were in a popular area in Buenos Aires called Palermo.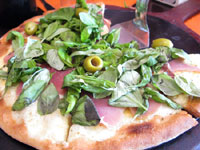 I have to admit, even though I had heard good things about the food in Buenos Aires, I didn't expect to find such great quality and variety of local and international fare. In addition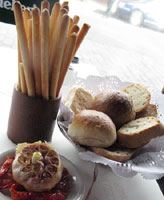 to the superb Argentinean beef, I discovered delicious New York-style sandwiches, freshly made Italian pasta, homemade breads, and some of the best pizza I've ever had. They even had surprisingly decent Japanese sushi.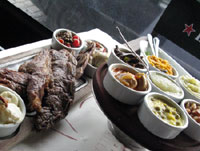 I should warn you that the food in Buenos Aires is served in very large portions. I suspect Argentineans might be the only people in the world who could go to Texas and be disappointed with their portion size. Fortunately, they don't mind wasting food, so you don't have to feel compelled to eat until you burst. Unfortunately, the food is so good that you almost certainly will.

Due to the limited time and intense work schedule, I barely scratched the surface of culinary potential of this city. Fortunately, I will be going back later this year to pick up where I left off.
Read More...