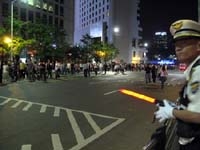 Since I've been in Seoul, there have been an endless series of protests in and around City Hall, which is about 500ft (150m) from my hotel. Since all of the songs, chants, and signs were in Korean, I couldn't always tell what they were so angry about. As it turns out, the wrath of hundreds of thousands of South Koreans has been unleashed on the city because they are afraid of getting mad cow disease from American beef...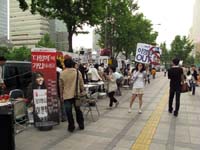 As the rallies, candelight vigils, and downtown marches have gotten progressively bigger and louder, it has become more difficult to find a taxi driver willing to take me to my hotel. Sometimes, I have to get out and walk the last 4-5 blocks to my hotel because protest marches have completely blocked major downtown streets.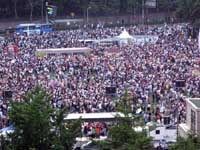 After realizing that every protest was an anti-FTA protest, I started asking my South Korean colleagues why people were so upset about the free trade agreement with the US. The initial response is always something related to the fear of mad cow disease that comes from accepting beef imports from older American cows. They firmly believe that their government has put the South Korean people at serious risk by lifting the cattle age restrictions.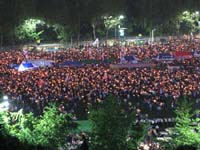 Then, a deeper discussion reveals that even if the agreement were amended to block imports of meat from older cows, the protests would probably still continue. More important than what's actually in the agreement is how the government reached the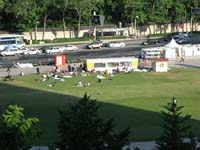 agreement---without the permission of the people. The FTA is just one of a series of unpopular policies the new government has tried to pass in its first 100 days in office.

The word on the street is that the South Korean people won't be happy until the president issues a sincere apology, fires the majority of his staff, and then reverses several unpopular policies including the unrestricted American beef imports.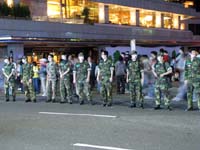 However, the announcements that: 1) the Blue House Chief of Staff and all members of the senior secretariat members will resign; 2) the South Korean government will ask Washington to block exports of older cows; and 3) the importers themselves have vowed to self-regulate cattle age even if no formal restriction is imposed, have not had even the slightest calming effect on the masses.

I'm starting to think they're having too much fun to quit protesting now.