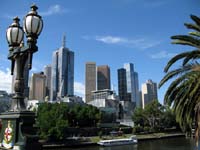 Although it rained quite a bit while we were in Melbourne, most days it was sunny long enough for us to take an afternoon stroll through a flower garden or park, or sit outside for lunch...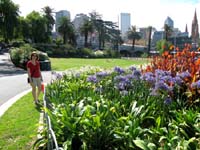 There were also a number of museums and galleries around town, most of which were free. We really enjoyed the NGV art museum.

Most of all, we loved the food in Melbourne. Unlike in Sydney, where we had to do a lot of research and go out of our way to find any decent food, great food seemed to be everywhere in Melbourne.

One afternoon, we happened upon a lovely street full of interesting little European-style cafes, with outdoor seating under a canopy. The next day for lunch, we found a small Greek restaurant that served freshly prepared dishes that were as unusual as they were delicious.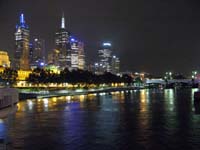 One evening for dinner, based on a recommendation from a colleague, we tried an unexpectedly good Italian place. The dining room was small, and it looked like it hadn't been redecorated in at least 50 years. There were no menus, only a chalkboard on the wall with a list of dishes in Italian, with no descriptions or prices. However, the food was amazing...and cheap!

Click here for more pictures of Melbourne.


---Here are a few of our favorite restaurants in Australia---

MELBOURNE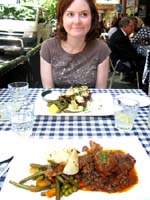 Pure South. Interesting natural ingredients, sourced from Tasmania. Unbelievably fresh oysters and perfectly cooked fish.

Waiters Restaurant. Unexpectedly great, cheap food.

Tsindos Greek Restaurant. Delicious food, interesting menu.

For a light lunch, try one of the many cafes on Degraves Street near the Flinders train station.

SYDNEY
Shiki Japanese Restaurant. Excellent fresh sushi.