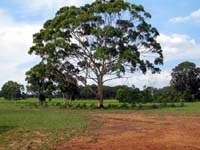 After more than 10 days in Australia, I was disappointed that we hadn't seen any kangaroos in the wild. I was determined to find one but was quickly running out of time and out of ideas...

I reached out to one of the Aussies I had met in Beijing, the mayor of a Shire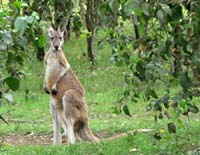 near Sydney, to see if he had any ideas. As it happens, he knew the mayor of a town called Penrith, where there were almost 4000 acres of former defense land practically overrun with kangaroos. He made a few calls and got Chris and me a private tour.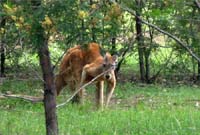 In Australia, millions of fast-breeding kangaroos are culled each year, just to keep the population under control. However, there was a huge uproar from the local community at the thought of harming a single kangaroo in the protected bushland of the old ADI site.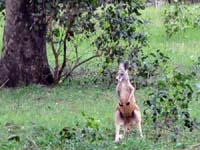 In the end, the development company that bought the land agreed to an expensive sterilization and maintenance program which would allow the kangaroos to live out their natural lives. Since then, there have been seasons so dry that the the land couldn't support all the kangaroos and the company had to initiate supplemental feeding programs.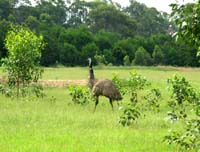 It was a rare treat to get access to this beautiful bushland. In the 30 minutes we spent driving around, we saw at least 30-40 Red and Grey kangaroos and joeys, and 4 emus. It's a shame the community is trying to block public access to the big portion of land that will be turned over to the state as a nature reserve.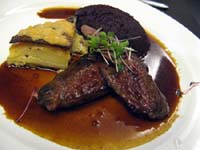 I should admit that my experience in the old ADI bushland wasn't my first taste of wild kangaroos. The night before, Chris and I had dined on kangaroo and emu at an unconventional restaurant in Melbourne specializing in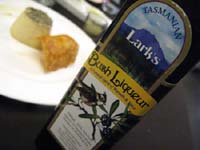 gourmet bush tucker. It turned out to be a great restaurant with too many interesting dishes to try in one meal.


Although kangaroo was on the menu all over Australia, the Tjanabi restaurant in Melbourne was the only one we found that knew how to cook it carefully enough to avoid drying out the extremely lean meat.

Even when cooked properly, kangaroo has too strong of a wild game flavor for me, a bit like venison. I preferred the emu.


Those of you heartbroken at the thought of eating Skippy, or appalled that Chris and I could eat our way through the Australian Coat of Arms, will be happy to know that I don't plan to make it a habit. Of all the lovable and cuddly creatures that found their way to my plate in 2007, Rudolph is the only one I still crave.