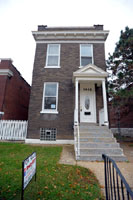 For the past two months, I've been commuting each week from St. Louis, Missouri to a small town south of Hartford in Connecticut. Although it is a nice town, it hasn't exactly been blog-worthy. More interesting is what I've been doing with my 3 days per week at home in St. Louis, where foreclosed homes are selling for less than the price of a car...


For the past 15+ years, real estate development in St. Louis has been booming. Neighborhood revitalization programs and community activism have helped to restabilize and restore the charm of early 20th century homes and communities, and have actually begun to reverse the 50-year population decline set off by the mass exodus of white people to the suburbs in the 1950's and 60's.

Now, many of the city neighborhoods are filled with interesting restaurants, beautifully restored historic homes, and a welcome diversity of race, ethnicity, gender, sexual orientation, age, and income.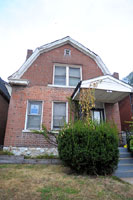 Unfortunately, several major real estate developers have gone out of business in the past year, and hundreds of independent rehabbers have had their properties foreclosed after property values dropped and rehab loans dried up.

This has dramatically increased the supply of old homes for sale, located in desirable neighborhoods, in need of significant rehab work.

My husband, Chris, somehow discovered this opportunity and started researching what it would take to be successful at flipping houses. The first I heard about it was in August, when we were in Santa Monica for a long weekend and he convinced me we should buy a house to renovate and sell.

Once we started looking at houses, it seemed unbelieveable how low the prices were. The first offer we made was for a 2000 sq ft (186 sq m) brick home listed at $90,000 that, after major renovations, could have sold for $200,000--even in the current economy.

We didn't get that house, but found a 2800 sq ft 2.5-story brick home in a good neighborhood for $40,000. As we were recovering from our shock and delight at finding such a great house for so little, we found a similar house on the very same block for $15,000!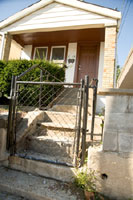 After putting in a few offers that weren't accepted because they were too slow or too low, we got a feel for how much to bid and how fast we would need to move to pick up a house for the price of a car.

We ended up buying three houses for much less than what we might have paid for one house when we first started looking. We've had to start referring to our houses by street name because we have so many now.

We are almost finished with the repairs on our Brannon house, which we plan to keep and rent out. After the holidays, we will start rehabbing our Sidney house, which should be ready for sale by the spring.
Read More...