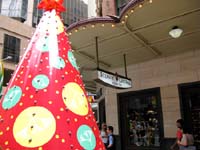 After finishing the second (and final) part of my project in China, I flew to Sydney to meet up with Chris for vacation. It was our first time to the southern hemisphere, so it took a little while to get used to the idea of a "Summer Christmas Sale"...

There were brightly colored metal Christmas trees all around, shining in the summer sun, and kids waiting in line to sit on Santa's lap, in a dusty outdoor sandlot surrounded by palm trees.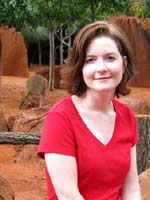 I had a little bit of work when I first arrived, to prepare and conduct a best practices workshop in loyalty marketing, segmentation, and analytics. The couple days I was working turned out to be the only days it didn't rain while we were in Sydney.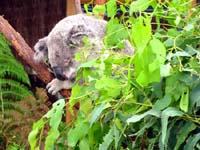 However, the city desperately needed the rain, so it was hard to complain. In between rain drops, we managed to do some shopping and sightseeing, including visiting Sydney's Wildlife World, where we saw wallabies and koalas up close.
After a few days in Sydney, we took a 2-hour train ride to the Blue Mountains in nearby Katoomba. It was similar to any number of sleepy little mountain towns you might find in the U.S., except the mountains weren't as high and the bushwalking (hiking) trails were peppered with rainforests.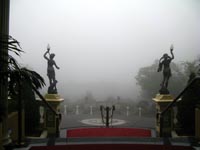 The afternoon we arrived in Katoomba, it was raining and cold, but we found a warm, dry place to stay the night. The next morning, we were able to squeeze in a short bushwalk during the three early morning hours when it wasn't raining.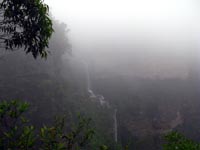 A thick layer of fog blanketed everything, making the empty rainforests even more eerie and mysterious. Adding to the mystique were the many powerful waterfalls rushing down the mountain side, which you could hear all around you.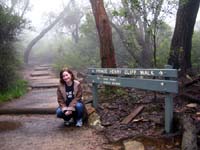 We saw lots of Cockatoos and even spotted a lyre bird in the bush. Unfortunately, it didn't open its tail for us.
After a few hours of exploring the spectacular, soggy, muddy rainforest, it started to rain. We tried to find a shuttle bus or taxi to take us back to the center of town. However, we had just missed the tourist bus and it wouldn't be back for an hour. We started walking toward town--up a steep hill, in the cold spitting rain--hoping to find a taxi along the way.
We never found an available taxi, but about 30 minutes into our uphill climb, someone who had reserved his own taxi (apparently one of only two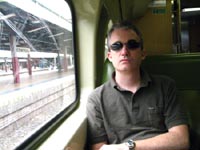 taxis in all of Katoomba that could handle a wheelchair) stopped and offered to give us a lift.
This was very fortunate because, in addition to being cold and tired of walking, we were also in danger of missing the train back to Sydney where we would catch our flight to the Whitsunday Coast a few hours later.
Click here for more pictures around Sydney.
Click here for more pictures from Wildlife World and Katoomba.