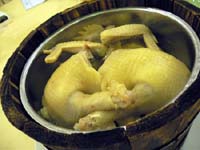 One evening, just before I left China to go home for Thanksgiving, a few of my Chinese colleagues took me to a restaurant they referred to as the "fancy chicken" place. Although I had heard many good things about the restaurant before we went, I was wholly unprepared to discover the most delicious chicken I've ever tasted…

I should qualify this just slightly. You may have read in an earlier post how I found the most delicious crazy chicken parts (organs, tail, knee bone, etc.) at a Japanese Yakitori place in New York. To be fair, Yakitori Totto is still in the lead for crazy chicken. At Fancy Chicken in Shenzhen, it was the normal chicken parts that were truly remarkable.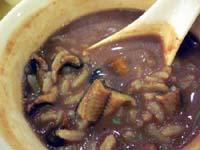 As with most restaurants where I dined with my Chinese colleagues, I didn't have many decisions to make. I only had to help them choose whether to order a white chicken or a golden chicken (I eventually convinced them to order one of each), and to confirm I was willing to try the restaurant's famous eel soup. They negotiated amongst themselves to work out the remaining details and then took care of all the ordering.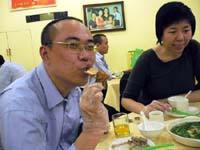 Eventually our bucket of chicken arrived, along with a few other dishes for us to share. In the Chinese tradition of not eating anything with your bare hands, we were each given one plastic glove to aid us in devouring our chicken parts. For me, it was a little tricky to eat chicken off the bone with only one slippery plastic hand, although it was certainly easier than when I first tried eating bite-sized bone-in chicken with only chopsticks and my teeth (see Chinese Food - The Bad).


Typically when we share dishes, everyone has an opportunity to take whatever they want as we spin the center of the table around. In the case of Fancy Chicken, we decided whose turn it was to take a piece from the chicken bucket via rock-paper-scissors. Luckily for me, no one cared about the breast, which is my favorite part. I was able to claim all the breast meat I wanted, unopposed.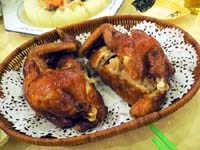 It had actually been against my colleagues' best judgment to order the golden chicken, but the picture on the wall looked to me so much like a familiar whole roasted chicken that I wouldn't give up until the group conceded to order one. As it turns out, it's pan-fried in hot oil to get the golden color and crispy skin, so it tasted like a fried chicken.

In the end, it was the pale, soft-skinned, unappetizing-looking chicken that really stole the show. It had been steamed whole, without any spices or seasonings except a touch of salt. The result was a chicken breast more juicy and flavorful than anything I had tasted before. They must start off with fresher, more delicious chickens in China. Otherwise, I don't know how they could get this result with such a simple preparation.

When I returned to China for my final two weeks on the project, I tried to make it back to the Fancy Chicken place again, but we had such a busy schedule that it didn't work out. Fortunately, I still have the delicious memory of this lovely pale chicken, which turned out to be my third favorite thing in China.