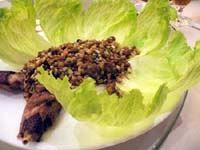 Guangzhou (pronounced Gwan-Jo) is about an hour by train from Shenzhen and is reputed to have the best Cantonese food in China. It's also reputed to be one of the most dangerous cities in China, where you're advised not to answer your mobile phone in public, lest it be grabbed out of your hand by a passing hooligan...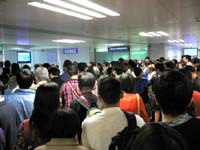 I only wish I had made it to Guangzhou sooner. I would have happily braved the dangers of the city and made the 2 hour round-trip commute at least once per week to experience the bliss of dining at Lei Garden Restaurant.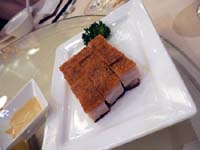 The Cantonese are known for their delicious soups, which they cook for hours. I tried a duck soup and a corn soup. Both were exquisite. I also had a pork dish with alternating crispy and succulent layers of perfectly cooked meat, with a side of wasabi mustard dipping sauce.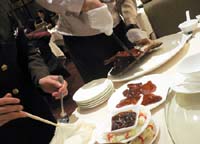 Then there was the Cantonese version of roasted duck wrapped in thin crepes (a little different from Peking Duck), which was absolutely delicious. The servers even sliced the duck and rolled the crepes for us, making it very easy to enjoy.


One of the best parts was dessert. Sweet desserts are almost as difficult to find in traditional Chinese restaurants as dishes containing raw lettuce. At Lei Garden, we enjoyed three different deserts. We started with a pastry filled with grated white carrot which was surprisingly good and not too sweet, then moved to a slightly sweeter mango desert with a light cream sauce and ended with a refreshing custard-like desert with mango and grapefruit.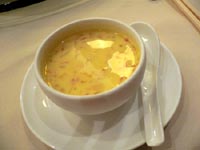 Although the food in Shenzhen is never boring and is often quite good, it's nothing like the really great food I discovered in Guangzhou. Admittedly, the best restaurants in Shenzhen are only a fraction of the cost of the one in Guangzhou. But who can really put a price on the happiness one feels after indulging in a truly great meal?