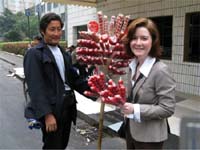 After 10 weeks in Shenzhen, it was finally time to go home. I arrived in China thinking it would take 8 weeks to finish the project, but even after extending my stay by two weeks, the client wanted me to stay another four…

In the end, I convinced everyone that I needed to go home for the Thanksgiving holiday, and I promised to support them virtually for a couple of weeks and then come back to Shenzhen for two weeks to finish up.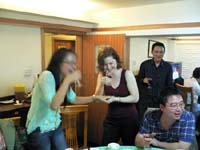 The client decided to throw me a farewell dinner party to ensure I left China knowing how much they appreciated me and how much they wanted me to come back.

Although I didn't realize it at first, as the guest of honor, it was my duty to share a bottoms-up toast with all 30+ people at the party. When the client made a point to ask me whether I wanted "pure wine" or red wine mixed with Sprite, it seemed like an easy decision. However, after a couple of toasts with full glasses of pure wine, I got their point and switched to small glasses of wine spritzer for the rest.

Click here for more pictures from the dinner party.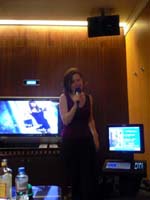 After the dinner party, a few of my colleagues and clients took me out for karaoke, which is extremely popular in China. The song choices in English were generally limited to cheesy old love songs, so I opted for the only two songs from this decade—Sexy Back by Justin Timberlake and Hollaback Girl by Gwen Stefani.

I have to admit, in hindsight, these are not the best songs to sing to your clients and colleagues, especially the uncensored versions available in Chinese karaoke machines. Fortunately, I couldn't keep up with most of the words anyway so I was only singing profanities and/or suggestive content about half the time.

Click here for more pictures from karaoke.