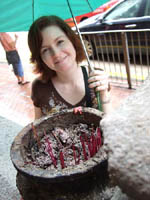 During my first five weeks in China, I spent the majority of my free time (the 1-2 hours each day when I wasn't working, eating, or sleeping) asking myself why I had ever agreed to come to to this country and planning how to get out and never come back. Then, after a glorious week off with my husband Chris, during the Chinese golden week holiday, I came back to work in Shenzhen with a fresh determination not to let this place get the best of me...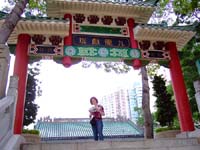 Although it proved to be a tough week, even with the new attitude, I think I may have finally made it through the storm. On Friday, we had a major breakthrough at work. Then, Saturday morning while enjoying a late breakfast of morning tea (aka Chinese Dim Sum) with a bunch of my colleagues, I understood my first bits of Chinese conversation. Also during breakfast, one colleague managed to convince the restaurant to give me a fresh head of green leaf lettuce to take home with me. I'd really been missing fresh garden salads and hadn't been able to find a decent head of lettuce anywhere.

Later that evening, I ventured out to a pub called Henry J. Bean's at the Shangri La Shenzhen Hotel about 4 metro stops from my apartment. It turned out to be the first "western" place (or any place, really) in Shenzhen that actually contained Westerners.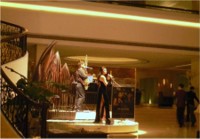 I couldn't believe how happy I was to find a smokey little pub with crappy American food and a DJ playing songs by has-been bands like Quiet Riot and Scorpions. The bar had four different beers on tap, none of which was Tsing Tao, and a Jagermeister machine. I had my first hamburger in 6 weeks--I even picked it up with my hands to eat it (and the fries). I was amazed to discover the bartender spoke English, and was able to fulfill my request for mustard without even having to consult with his colleagues to figure out what I was asking for.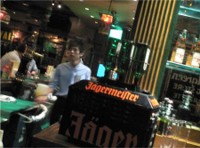 For a little while, it was nice to sip a cold beer and carry on small talk in English about meaningless western stuff. However, it wasn't long until the many Jagermeister shots had reduced the people around me to blithering idiots. Once they became too annoying to tolerate, I got the check and decided next time I should arrive a couple of hours earlier.