Yesterday, Chris and I drove to Farmington, Missouri to see my family and to stock up on the best tomatoes in the world. For me, fresh tomatoes are one of the best things about summer. When you combine my dad's vine-ripened tomatoes and spicy jalapenos with my husband's talent for making fresh salsa, it is truly something to be savored...

Today, Chris was on a mission to make ketchup from scratch. Apparently, when he made himself a Sloppy Joe last week he was frustrated because it called for ketchup and he couldn't
find any packaged ketchup that didn't contain a ton of high fructose corn syrup. After today, we will be stocked with homemade ketchup for those rare occassions when we actually need it. He also made blueberry tamales, which must be pretty unique since a google search didn't return a single recipe. After cooking all day, he ended up with ketchup and dessert, so I had to order Chinese food for dinner.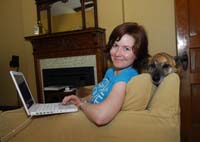 While he was busy making ketchup, I finally figured out how to edit the video footage from our trip to the Carribean 8 months ago. I've posted a couple of my first movies here. Please keep in mind that I had no idea what I was doing and the videos in this post are my first attempt at anything beyond photos.

Eight months ago, Chris and I took a vacation to the Caribbean, visiting Old San Juan and Vieques Island in Puerto Rico, and Tortola Island in the British Virgin Islands.


On Vieques, there are only about 8 square miles of inhabited space, and at least as many horses used for transportation as cars. The main reason we went there was to experience the Bio Bay. It was incredible. We kayaked out to the middle of the bay around midnight, guided by Abe. Whenever anything disturbed the water, it glowed brightly. We swam and glowed in the water and then chased fish in our kayaks (since you could see them glowing under water).

The next day, we flew from Vieques to Tortola in the British Virgin Islands.


The airport on Tortola was far from our hotel, at the old Sugar Mill on the South side of the island. The next time we go to the Virgin Islands, we will definitely fly into St. Thomas in the USVI, and take the ferry to Tortola. The ferry dock was just a 10 min taxi ride from our hotel. The Sugar Mill had a nice but extremely small beach. If we were to stay in Tortola again, we would probably stay at Sebastian's, just down the road. It was cheaper, with great views and a slightly better location and better restaurant.

The highlight of our time in Torotola was a day sail on the White Squall II. We were originally scheduled to visit the baths at Virgin Gorda, which would have been awesome, but there were storm issues and boats weren't allowed to enter that day. We ended up going on a great sail around the Peter and Normand Islands.

We have several more photos and quite a bit of video footage of the Carribean, so I hope to update this post in the coming weeks with a few more visual aids. It will likely be the only thing of interest until I start my project in China later this month.