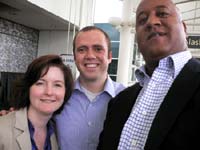 Although I haven't yet recovered from the long working hours and sleep deprivation of my project in Colorado, I have just 5 days before I leave for China to start my next adventure. So far, almost everyone I've talked to about the trip has offered me some sort of warning...

I've been warned repeatedly about air pollution, poor health conditions and poor water quality, the dangers of eating local food, gender discrimination, the risk of infectious disease, and the risk of being imprisoned and/or executed by the communist government. In fact, the only consistently positive thing I hear about China is Hong Kong, which has been described as New York City in Hawaii.

Imminent dangers (and nonsense) notwithstanding, I'm looking foward to the trip. I keep reminding everyone that I already live in the most dangerous city in the U.S., and just because Shenzhen may be reportedly one of the most polluted and dangerous in China, doesn't mean there won't be some relatively safe and interesting areas for me to explore.

The plan is to spend a few days in Beijing getting to know a couple of my Chinese colleagues (and tasting the local soup dumplings) before heading to Shenzhen, where I will rent an apartment in the city center for the duration of the project. I may also work in Shanghai from time to time.

I've been so busy that I haven't done much to prepare for the trip. Aside from reading one book on Chinese business etiquette and listening to a few hours of Mandarin lessons on my ipod, I've done almost nothing to familiarize myself with Chinese culture, language, or history.

I know I want to taste soup dumplings and noodles in every city I visit, and I would like to try a sea slug at some point and avoid eating any puppies. Beyond that, I have very few plans or expectations for the next 8 weeks, other than to experience China, whatever that means.