Last week, while strolling along the sunny, breezy San Francisco waterfront with my husband, I realized just how much we needed to get out of St. Louis. We've been landlocked way too long and neither of really fits in the Midwest. Of course, we have many compelling reasons to stay--our families are here, our friends are here, his business is established here, the cost of living is low...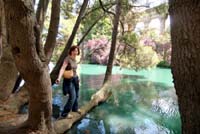 After thinking about it a little more, I realized it wouldn't be enough to agree that we should move someday. We needed to set a date and a destination if we ever hoped to actually make it happen. As far as I was concerned, moving to another U.S. city would be almost as much trouble as moving out of the country, and for years I've been dreaming of living in Europe. It seemed only logical that we should set a date and start planning our move to Europe.

When I first proclaimed (with much enthusiasm) that we needed to move to Stockholm by May 2009, Chris was taken by surprise. Somehow, he hadn't managed to hear the detailed evaluation that had taken place in my head, leading me to this conclusion. His experience was probably something more like: "Aren't those sea lions cute?"...15 minutes later... "We need to be living in Europe by the time I'm 35, so let's start making plans to move to Stockholm".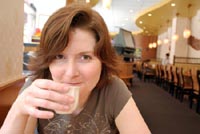 Chris has since warmed up to the idea and is at least willing to consider the possibility, even if he isn't quite ready to commit. I figure after another 6 months to a year of clever manipulation on my part, and a few more visits to Europe, he should be ready to make the leap.

In the end, it may not be Stockholm...it may not even be Europe. We have two years to figure out exactly where we want to go and how to get there, but at least I have a plan and the clock is ticking.

I suppose I should mention something about the trip to San Francisco. It was a short and unconventional vacation. Chris and I flew to San Francisco on Monday and spent a couple of days together, then my best friend from Seattle, Michiko, met up with us on Wednesday for the 4th of July holiday. Thursday morning, Chris went home to St. Louis and Michiko and I hung out in San Franciso for a couple more days.

San Francisco is very cool in the summer. It caught Chris and me off guard on Tuesday when we left the hotel with no sunblock and walked 7.5 miles (12 km) around the waterfront. Although it was cool enough for a jacket or sweatshirt, we both ended up with freakishly bright red noses and cheeks for the rest of the week. My face is just now starting to recover.

Here are a few experiences worth mentioning, in case you're ever in San Francisco looking for something to do: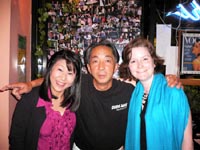 Sushi Man. This is an exceptional sushi bar with some of the freshest fish around. The only challenge is that the highly talented sushi chef & owner, Ryo, can be a bit tough on his customers. If you don't have the right attitude you might be denied a table or seat at the bar (or at least denied the best cuts of fish). He's actually quite friendly and I've only had good experiences, but I've seen other customers with bad attitudes who didn't fare so well.

731 Bush Street at Powell
San Francisco
Ph. 415.981.1313

Bar Crudo. Excellent raw bar with an interesting variety of fresh fish and shellfish, including perfectly steamed dungeness crab from the Bay area.

603 Bush St.
San Francisco
Ph. 415.956.0396

Plouf. Great French restaurant tucked away on Belden Place, along with 3-4 other restaurants that also looked interesting. Excellent food in a relaxed setting with outdoor seating under a canopy. Highly recommend the steamed mussels and clams, which can be prepared a half dozen different ways.


40 Belden Pl.
San Francisco
Ph. 415.986.6491

Jazz at Pearl's. Chris and I were both tired and sunburned by the time we arrived, and we probably would have skipped the show if we hadn't reserved tickets in advance. However, it turned out to be a great experience with really talented musicians & phenomenal singer. The Marcus Shelby Trio with Faye Carol is playing at Pearl's every Tuesday in July.

256 Columbus Ave
San Francisco
Ph. 415.291.8255
http://www.jazzatpearls.com/jazz/

Ferry to Sausalito. Nice 30 minute ferry ride from San Francisco, with a few interesting restaurants & shops in Sausalito. Michiko and I really liked the Indian restaurant with waterfront view.