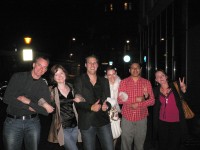 Last week, I returned to Finland after a week in the States. By the end of the week, I was still recovering from jet lag and I thought about skipping the trip out of town and being lazy in Helsinki instead. I'm glad I didn't or I would have missed one helluva party…

On Thursday evening when I was trying to decide what to do with my weekend, I found a great deal on a flight to Amsterdam leaving the next day. I booked the travel arrangements without doing any of my usual research, and I realized after landing in Amsterdam that I didn't have a clue about Dutch language or culture. At least the signs were in English, and the train to the city center was easy enough to figure out.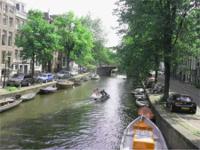 My flight had been delayed out of Helsinki, and it took longer than I expected to figure out how to get from the train station to the hotel, so I didn't get to my hotel room until around midnight local time. I showered and went directly to bed, where I stayed until almost noon on Saturday. Eventually, the grumblings in my stomach motivated me to get up and search for food.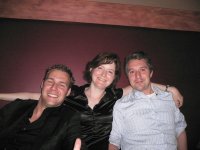 I had lunch at a nice little café, and then strolled through the major shopping areas, across the bridges and around the canals. It was a gorgeous day for exploring the city. After a few hours of strolling, I decided to stop in for a drink at a beer garden in a plaza called Rembrandtplein. This is where I met Victor and Jim, two of the rare and unusual variety of Americans who are so well adjusted to European culture that you might mistake them for Europeans.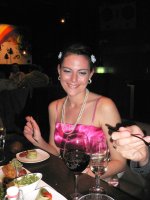 Four beers later, they invited me out with a group of friends for dinner and clubbing. After going back to the hotel to change, and then taking a ride on the wrong tram and missing my stop, I finally met up with everyone at a restaurant called Rain, back in Rembrandtplein. I don't think I've ever felt so warmly welcomed into a group of strangers.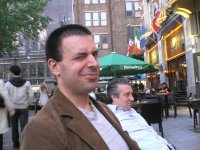 We enjoyed a great tapas-style meal at Rain, and then continued on to a nearby club. Although the club had a couple of dance areas, we spent the majority of time hanging out talking. It was a rare treat to be part of such a diverse group with so much in common. By the end of the evening, it felt like we had known each other for years. Most surprising was that nearly everyone in the group had just met the week before, during a night similar to this one.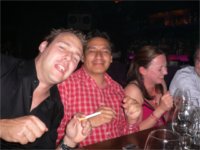 At the airport in Amsterdam, I happened to run into Jim, who was returning home to Munich. Like me, this had been his first trip to Amsterdam and the previous night had been his first exposure to this delightful group of people. We were both amazed at how much fun we had and how much of a connection we felt with our new friends in Holland.

My only disappointment this weekend was that I was unable to find herringhuis (raw herring sandwich) for lunch on Sunday. Any other day, there would be street vendors everywhere selling these Dutch delicacies. However, Sunday is their day off.

For me, herringhuis and good friends are more than enough reason to plan a return trip.

Click here for more pictures.