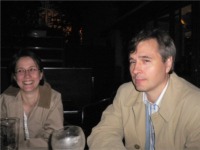 As I get ready to pack up my things and return home to St. Louis, I can't help feeling a little sad to leave Helsinki. Although Finland is not likely to win any awards as a tourist destination, there is something truly remarkable about the people here...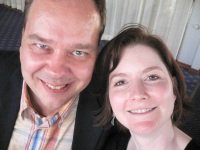 Working with Finns, it's easy to forget how many differences there are between Finnish and American culture. Finns are highly proficient in English with an uncanny understanding of American slang and idioms, and they don't really look that much different from us.
It actually took me a while to figure out why I liked working with Finns. They tend to be very demanding and impatient, and quick to criticize if something isn't right. They aren't especially polite or sensitive, at least compared to American standards, and you can pretty much forget about "political correctness".

Yet there is something about the Finns that transcends all of that. I'm only now beginning to understand it, and it's always dangerous to speculate about other people's thoughts and motivations. However, I will share what I think I have learned about Finns during my two months in Helsinki.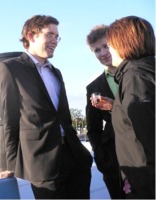 First and foremost, Finns are genuine. Their level of sincerity is much more profound than what I would typically think of as being honest. Somehow the Finns have managed to hold onto the kind of purity and sincerity that usually gets lost somewhere in childhood in America. Americans are trained from a very early age to watch what they say and to be careful not to offend or hurt anyone's feelings. I can only assume Finnish children are allowed to speak their minds without retribution so they never learn that it's wrong.
Finnish confidence is also quite peculiar. Somehow, in spite of the level of criticism they must all endure growing up (since everyone is probably telling them what they really think of them), they emerge as adults with this extreme confidence that is usually missing from all but the most arrogant Americans. Yet the confidence and quiet strength of the Finns seems to have nothing to do with arrogance.
Finns also tend to show each other a great deal of respect. Even though they are quick to criticize and question each other's ideas, it doesn't come across as disrespectful. For Americans, criticism is often used to discredit someone else's ideas in order to advocate one's own position. When Finns question or criticize something, they genuinely seem to be trying to figure out the best solution by understanding someone else's position.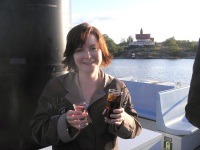 Although it is not easy to get to know a Finn, it is really something special when it starts to happen. I was only in Finland long enough to get a small taste of the sincerity, purity, intensity, and passion upon which Finnish friendships are built. I would highly recommend the experience to anyone who has an opportunity to work with Finns.
Click here for more pictures.
The journey of Finnish discovery is tough but rewarding, and you will need some sustenance should you decide to attempt it. Fortunately, I managed to find a number of good restaurants in Helsinki.
Here are a few of my favorites:

Nuevo. Creative Spanish/Latin American Fusion with an interesting wine list. My favorite restaurant in Helsinki.
Sofiankatu 4
+358 9 677 101
Fish Market. Excellent raw bar and steamed shellfish. Closed Sunday.
Pohjoisesplanadi 17
+358 9 1345 6220
Havis. Fresh fish and creative dishes. Owned by same company as Nuevo.
Eteläranta 16
+358 9 6869 5660
Maithai. The only good Thai restaurant in town, and the only place I was able to get truly spicy food in Finland.
Annankatu 31-33
+358 9 685 6850
Knossos. Delicious variety of Greek food with extremely attentive staff, in an interesting old building.
Lonnrotinkatu 34
+358 9 621 1122
Zetor. Fun little trucker-style bar & restaurant. The place to go if you need something tasty and bad for you, with a more interesting menu than you would expect from such a place.
Mannerheiminitie 3-5
+358 9 666 966
For good Italian, head to Bulevardi, which happens to be a lovely place to eat outside. The only one of these restauarants I tried personally is Toscanini, when Tony's Deli was booked. However, all three were recommended by the same Finn who helped me find the other great restaurants in Helsinki.
Tony's Deli. Don't let the name fool you. This is a charming Italian restaurant, not a deli.
Bulevardi 7
+358 9 641 400
Toscanini
Bulevardi at the Klaus K Hotel
020 770 4713
Serata
Bulevardi 32
+358 9 680 1365
Although sitting at a table is never as good as being handed each piece of fish directly by the chef at a proper sushi bar, Kabuki is as good as it gets in Helsinki and much better than you might expect.
Kabuki. Try the upgraded sushi or sashimi assortment.
Lapinlahdenkatu 12
+358 9 694 9446