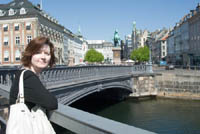 During my project in Finland, I briefly visited a couple of other Nordic countries that deserve mention. Before I start telling stories, I should probably explain what I mean by "Nordic" since a surprising number of Americans I've encountered have no idea...

Nordic countries include Denmark, Finland, Iceland, Norway, and Sweden, all located in northern Europe. In many countries around the world, people believe that our very own Santa Claus lives somewhere in the Nordic region, rather than the North Pole.

COPENHAGEN, DENMARK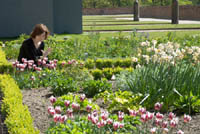 When my husband came to visit me in Finland in early May, we spent a delightful weekend in Copenhagen. As you may recall, my first few weeks in Finland were mostly cold and damp, with generally disappointing meals. This was in stark contrast to the warm, sunny, and tasty city we discovered in Denmark.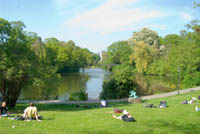 Everywhere we went in Copenhagen, there were beautiful parks and harbors and lakes and moats where people were having picnics and enjoying the gorgeous sunny weather. We discovered a great French restaurant called L'Alsace and a cozy little wine bar in town, and ended the trip with the most delicious Italian food we'd had in quite some time.
The lasagna at La Rocca was so good, in fact, that it served as the inspiration for an amazing meal Chris cooked at home just this week. It involved grinding his own hamburger, a 4-hour tomato-meat sauce, and lasagna noodles made from scratch (seriously--from flour & eggs).

Click here for more pictures of Copenhagen.

L'Alsace. Delicious French cuisine.
Ny Østerg 9
Copenhagen
Ph. 3314 5743

La Rocca Cafe & Ristorante. Great Italian in a casual setting with friendly service.
Vendersgade 23-25
Copenhagen
Ph. 3314 6655

Il Peccato. Cozy wine bar with a fireplace (there's also a restaurant, but we didn't try it).
Axel Torv, 8
Copenhagen
Ph. 3393 9903


STOCKHOLM, SWEDEN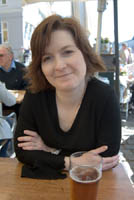 The last weekend before I returned home to the States, I spent a truly indulgent weekend in Stockholm. Although the trip was brief, by the time I left Stockholm on Sunday afternoon, I was already plotting my future there.

It was unfortunate my husband hadn't gone with me to Stockholm instead of Copenhagen, since he hates when I start planning our future together in foreign cities he's never even visited. Although, I think by now he's starting to realize that I know him well enough not to pick a city where he would be miserable, and that I change my mind often enough that he probably has nothing to worry about anyway.

There was a restaurant in Stockholm I wanted to try called Mistral, but it was very small and generally booked months in advance. I called the restaurant hoping to get lucky and somehow managed to get a reservation for Saturday evening.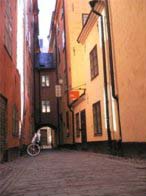 Knowing I would be having a big meal in the evening, I set out to find something light and fun for lunch and ended up at a place called Grodan, where I sat outside and enjoyed bleak roe with toast and crème fraîche, and a glass of Cava. It was lovely weather, but a little cool in the shade. Not to worry, they had heaters and warm fuzzy blankets outside just in case.

After lunch, I walked all around the city and through the old town Gamla Stan. There were free music concerts in the park and interesting old neighborhoods to explore.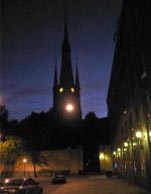 Later that evening, I arrived at Mistral for a 4-hour, 9-course tasting menu. I suppose the menu might sound a little weird to some. To me, it was creative and wonderful. It included such things as salted pike perch with fried ox tongue, and pork cheek with barley and fish eggs, and ended with the most heavenly olive oil ice cream.

For each course, I got a careful explanation of the concept for the dish along with descriptions of where the ingredients had come from and how the dish had been prepared. It was the best meal I'd had in months, and it was definitely the longest and most expensive meal I had ever eaten by myself. I hadn't bothered to find out the conversion rate between the Euro and the Sweden Kronor, so I didn't realize just how expensive it was until I looked at my credit card statement the following week.

Sunday it rained all day, but I had a relaxing day at the spa, with a traditional Swedish massage, sauna, and some sort of crazy water aerobics class. I found out later that many people in Sweden and Finland are not familiar with Swedish massage and think it sounds a bit scandalous. I guess they need to come to America to find out how normal it really is.

Mistral. If you can get a table, you won't be disappointed.
Lilla Nygatan, 21
Stockholm
Ph. 101 224

Grodan. Great place to eat outside.
Grev Turegatan, 16
Stockholm
Ph. 679 6100

KB. Restaurant & bar with friendly service. Try the herring & new potatoes.
Smålandsgatan, 7
Stockholm
Ph. 679 6032

For a day at the spa, try Sturebadet. I can highly recommend a traditional Swedish massage with Mons.

Sturebadet
Sturegallerian, 36
Stockholm
Ph. 545 015 00
Read More...