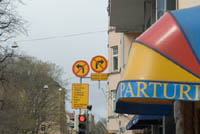 When my friends and family heard I was coming to Helsinki for 10 weeks, the reaction was pretty consistent. Those who had never been here before thought it sounded exotic and far away. People familiar with the city said something like "Oh, I'm sorry" or "It's too bad you couldn't get a project in Stockholm--now that's an interesting city"...

Naturally, I discounted all the warnings, bought a book about Finnish culture (Finland, Cultural Lone Wolf by Richard D. Lewis) and the Teach Yourself Finnish Complete Course Package, and set out to discover the interesting side of Finland that all those other schmucks must have been too dense to recognize. After 5 weeks in Helsinki, I am still searching.

At first, it seemed like a non-Finnish speaking person could get around the city just fine. I could communicate with taxi drivers and waiters in English, to get back and forth between the hotel and the office or to get food when I was hungry. Unfortunately, as soon as I was ready to move beyond basic survival, it became much more difficult.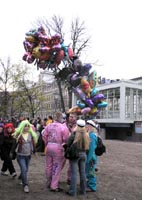 I tried to find a friendly pub, where I could sit at the bar for a drink, a bite to eat, and maybe meet some interesting people. However, the pubs generally don't serve food, and no one ever seems to be sitting at the bar alone.

I couldn't resist the temptation to belly up to the bar on my own to see how people would react. My experiments so far have included a hotel bar, a "London style" pub, and the bar at a Tex-Mex restaurant. The longest I sat sipping my drink quietly without even the slightest opening to speak to anyone was almost 3 hours (at the London Pub), and my only spontaneous conversation ended up being with another American (at the Tex-Mex joint).

Two exceptional events have occurred in Helsinki during my time here. The holiday Vappu on the 1st of May has been described as the one day per year when Finns are friendly to everyone, due to the obscene amounts of alcohol consumed. A couple of weeks later, for the first time in history, Helsinki hosted Eurovision, Europe's most popular song contest. During both events, I ventured out into the city hoping to find at least one friendly stranger to engage in any sort of conversation but ended up feeling lost and alone.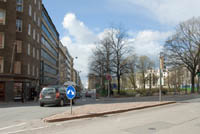 I kept thinking to myself--if only I could find good food in Helsinki, the lack of spontaneous human interaction wouldn't be so bad. I have never had a problem keeping myself entertained over a great meal. However, as I grew tired of eating the same completely adequate food day after day, it occured to me that nothing in this town ever changes. From one day to the next, everything looks the same, feels the same, smells the same, and tastes the same. There are virtually no risks which, by definition, means no adventure.

Helsinki is great for people who love the predictability of knowing you don't need to carry cash because you can pay for anything with a credit card, or knowing that you will always be served exactly the same amount of wine in your glass, or that the taxi ride from the office to the hotel will go via exactly the same route (the most efficient route, of course) no matter how many different taxi drivers you get.

My bliss comes from the variety and unexpectedness of life. I'm happy to put myself in unfamiliar or uncomfortable situations if it means getting to taste something unusual or getting a brief glimpse into someone else's world. During my time in Spain, for example, I often didn't know where I was going or what I was eating, and I even skipped a few meals because I couldn't figure out how to order. For me, intermittent frustrations and a few unanswered hunger pangs were a small price to pay for the richness and variety of experiences that occurred in between (see stories from December 2005 - April 2006 for more about Spain).

History has proven Finns to be exceptionally tough and resilient, and the people I work with are consistently friendly, funny, warm, and intelligent. Unfortunately, after working hours are over and the Finns return home to their private lives, a foreigner in this town is left to experience the boring, predictable exterior of Finland, with no access to the beautiful and mysterious people hidden inside.