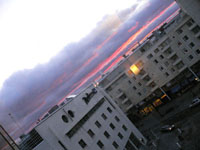 I've been in Finland for almost a week. In that time, I've recovered from jet lag, met my new work team, learned a few Finnish phrases, and settled into my hotel, where I will be staying nearly 5 more weeks before my first visit back home to St. Louis...

In Helsinki, signs are mostly in Finnish and Swedish, but it's quite easy to get around because everyone speaks English, even the taxi drivers. Finnish television is largely in English and movies at the cinema are subtitled, so no problems there. But my computer has somehow detected that I'm in Finland and has forced me into the Finnish version of Blogger.com.

It actually felt like Spring for the first few days in Helsinki, but then it turned bitter cold. Having jet lag early in the week and limited tolerance for cold weather on the weekend, I haven't ventured out much to explore this new city, except to find food.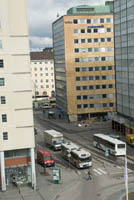 Unfortunately, in Helsinki a good meal is very hard to find. Even in restaurants with interesting-sounding menus and relatively high prices, the food tastes bland and unimaginative, and usually appears to have been prepared in advance and reheated in the microwave. The Italian restaurant at my first hotel served food that was both tasteless and expensive, and the Tom Yum soup at a nearby Thai restaurant was not even recognizable as one of my favorite soups in the world.

Just as I was starting to think it might be better to save my money and subsist on Subway and McDonalds sandwiches for the next 5 weeks, I discovered a great restaurant in the Helsinki City Center, called "Grill It", which is attached to the Radisson Royal Hotel. Here is where I tasted Reindeer for the first time. I was so happy with the meal that I decided to move my room to the Radisson Royal. This was no trivial task, as I had 5 weeks of clothes and supplies unpacked at my first hotel.

Although I had another disappointing dinner last night, this time at a Spanish tapas place featuring sautéed shrimp-from-a-can, I still have hope. I'm comforted by the fact that at any time I can go right downstairs and dine on another of Santa's tasty little helpers.