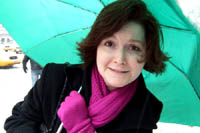 I heard that winter in New York City didn't even begin until late January this year. With a high of 70F / 21C during December and not a flake of snow, people started to think they were in some sort of Global Warming twilight zone. However, by the time I started my project in Manhattan, winter had arrived...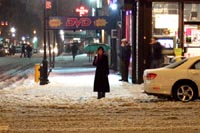 For 8 weeks starting in late January, I was supposed to fly into New York City each Monday morning and then fly home to St. Louis on Thursday afternoon, but Mother Nature had different plans for me. Nearly every week my flight was delayed or canceled due to weather. One weekend early in the project, I was stranded in New York unexpectedly when my Thursday flight was canceled and there wasn't a single flight out of any of the 3 major NY airports for at least 2 days. Since I would have to return to New York on Monday morning anyway, I elected not to spend my Saturday evening at the airport in hopes of maybe getting home for 24 hours, so I booked a hotel for the weekend and figured out a way to stretch my clothes & supplies for one more week.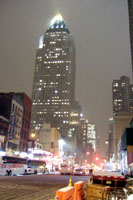 Even in the nastiest weather, New York is an amazing city. As I expected, I found more great restaurants in NY than any one city deserves. Unexpectedly, I found that New Yorkers are some of the friendliest people in the world. In my quest to experience as many great restaurants as I could during my time in NY, I often tried new restaurants on my own. In my years of traveling solo, I have never had so many people notice me eating alone in a restaurant and invite me into an interesting conversation.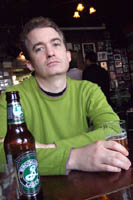 During my first week, I met two native New Yorkers at a noodle shop who kept me entertained far longer than I had planned to stay for dinner. About a week later at a raw bar, I met another native New Yorker who was an executive chef for a major catering company in NY. He and I shared stories about our world travels and our love for food, and ended up getting together for a double-date with his wife and my husband when Chris came to NY a few weeks later. The weekend I was stranded in NY, I met a friendly couple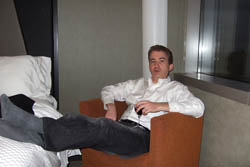 from New Jersey at the Blue Note Jazz Club, and another evening at a local pub I met a woman from Australia who was passing through NY on her way to Sierra Leone in West Africa to volunteer as a physical therapist.

Of course, one of the best things about NY is the food. I've eaten more interesting, delicious, fresh, wonderful food in the last 8 weeks than in any 8-week period in my life. Here are some of the highlights: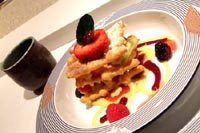 My first order of culinary business when I arrived in NY was to find a great sushi bar. I wasn't sure where to start, so I asked the concierge at the hotel for a recommendation. I expected to try a few places before finding my perfect sushi bar, but then I experienced Sushi Zen. I was able to speak enough Japanese to get a good seat at the sushi bar, with an amazing chef named Mitsushiro-san. My chef didn't speak much English, but Kimihiko-san the manager checked on me regularly to be sure I was being taken care of. I went back to Sushi Zen nearly every week I was in New York and was never disappointed.

Sushi Zen at 108 W. 44th Street. Best to go on a Tuesday or Friday--the days they receive their fresh seafood direct from Japan--and ask for either Mitsushiro-san or Yamano-san to serve you at the bar.

Since sushi night was so expensive, I tried to mix it up with lower cost alternatives in between. Here are some of my favorites: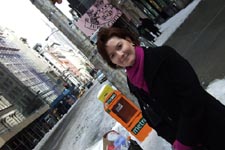 Ollie's Noodle Shop at 200 W. 44th Street. Huge menu of inexpensive dishes. Interesting soups & appetizers. Fast service.

West 46th street is known as Little Brazil. Between 5th and 6th Ave, there are a number of great mid-priced restaurants, including:

Ipanema Brazilian Restaurant at 13 W. 46th Street. Great authentic Brazilian food and drinks in a laid-back atmosphere, with a very friendly Brazilian/Italian bartender.


Akdeniz Mediterranean Turkish Cuisine at 19 W. 46th Street. Attentive staff and a number of interesting dishes. Highly recommend the red lentil soup.

A great French Mediterranean restaurant called Marseille, at 9th Ave & W. 44th Street, has delicious food and perfectly cooked fish and meats, with a pre fixe menu that is a great value.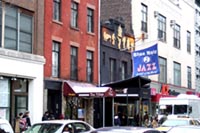 For oysters on the half shell & other fresh seafood try Thalia at 8th Ave & W. 50th Street or Rue 57 at 6th Ave & 57th Street. Both have a great variety of raw & cooked seafod.

All of my dinner recommendations above were somewhere near Times Square, since that's where I was staying.

For lunch near Union Square, where I was working, I can recommend:

Medina Cafe at 9 E. 17th Street. Great variety of tasty breakfast and lunch options.

Aleo Restaurant & Bar at 7 W. 20th Street. Pre fixe menu that is delicious, unique, and relaxed.

For the best Dim Sum in NY, go to Ping's Seafood at 22 Mott Street in Chinatown. Authentic and delicious with a huge variety of items.