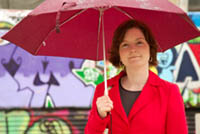 There were many reasons why Chris and I decided to take a trip to Paris last April. I was about to start a new job which would give us less time to spend together. Chris had studied French in high school and college, so it would be a great opportunity to try out his language skills. And, of course, we wanted to see how the experience would compare to the familiar Jazz standard April in Paris...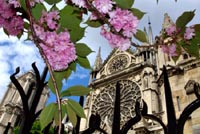 The first international trip Chris had ever taken was when he came to visit me in Southern Spain, which involved having to navigate confusing airports and train stations all alone, in a language he didn't understand. Although Chris is not averse to international adventures, he doesn't need them like I do. He would have been quite happy to stay in his comfort zone, spending his vacation a little closer to home where everyone spoke his language.
Since I had been so focused on myself and my Spanish obsession for the past year, I really wanted this trip to be something Chris would enjoy as much as me. Neither of us knew much about France, but Chris wanted to visit Provence and Paris, so I searched the internet for things to do and places to stay.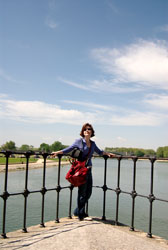 We started our French adventure in Avignon, which was a lovely town filled with those cute little outdoor cafes that come to mind when we think of France. We spent two days exploring this ancient walled city, including the Palace de Papes, beautiful gardens, and famous old bridges over the River Rhône. It was the perfect place to adjust to the time change and get over our jet lag.
On the way to Paris, we stopped in Lyon for one night. This was our kind of city.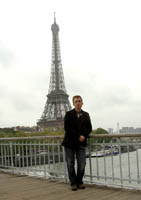 The people were friendly, the shops were unique, and the food was absolutely amazing! We stayed at a great place called Boscolo Grand Hotel. It was just across the Place de la République from a street called Mercière, which was full of interesting little restaurants. Based on a recommendation from our concierge, we had lunch at Le Bistro de Lyon. This is where I first discovered the culinary delight they call a Lyonnaise salad. Although enough time has passed that I don't recall exactly what else we had for lunch that day, it was all wonderful and included fresh soups and tasty sausages. In the evening, we went to a place on the same street and overindulged on shellfish and other delicacies from the sea.


It turned out to be much colder in Paris than I expected, and I spent the first few days shopping for warm clothes. I guess because of the time of year, everyone was looking ahead to Summer and shops had already sold out of all things warm. After two very chilly, rainy days and at least 20 stores, I finally found a few warm things to get me through the week.
We rented an apartment in Paris from an American I had met in Madrid. It was in a great location, close to shopping and lots of little bistros.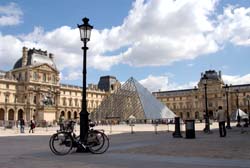 It was so much fun to have French food for every meal.
Before I went to France, I didn't believe that "French fries" were actually French. I thought Americans had just made that up to bring a touch of class to everyone's favorite fast food snack. However, after a week of eating frites in France, which accompanied nearly every meal, I will never doubt their origin again.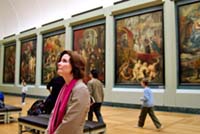 One especially memorable night in Paris we went to a Jazz club called 7 Lezards, located at 10 Rue des Rosiers, near the St. Paul Metro station. We hadn't previously associated Paris with great Jazz, but it turned out to be the best kind of club--very intimate and informal, packed with as many college students as retired professionals. The main attraction that night was a very talented jazz singer from Atlanta, who had visited Paris several years ago and decided to stay. It just happened to be her birthday that night, so she had many musician-friends in town who played and sang for her throughout the night.
That night at the Jazz club, we met a fascinating older couple who came to Paris for vacation from New York 15 years ago and never left. They had been married for more than 30 years. They said one of the reasons they were still together was because of the many adventures they had shared over the years. Whenever they had gone through a rough patch in their relationship, or were forced to spend time apart, they would think about all the fun they had together.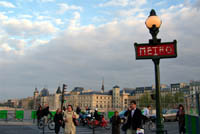 As with any adventure, this trip had its share of challenges. For example, we missed our train from Paris to Avignon because we couldn't figure out how to get tickets on the Metro. The self-service ticket machines were only in French, didn't accept cash, and wouldn't take any of our credit cards. But we eventually overcame this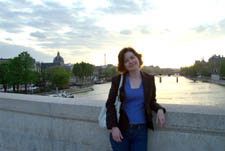 and a few other minor difficulties to have one of our best vacations ever. We even managed to find the "secret" entrance to the Louvre, which saved us several hours of waiting in line to get into the museum and made us feel quite clever.
I was so glad Chris and I were able to experience our first time in France together. Now, whatever the future brings, we'll always have Paris.