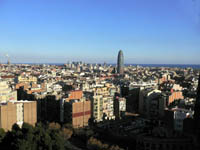 One of the major disadvantages of traveling alone is not having anyone to help carry your stuff. As I left Sevilla for Barcelona, I realized I had accumulated more stuff than I could handle on my own. I thought it would be easy enough to ship a box home to lighten my load. However, there was no shipping facility at the small Sevilla airport...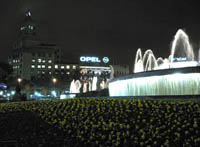 When I arrived in Barcelona, I had to wait more than an hour at the baggage carousel, and then spent another two hours asking various people at the information desks where I could go to ship a package. They all described a mysterious freight terminal, which somehow was always a 10 minute walk from wherever I was standing. After spending nearly two hours in search of the freight terminal, during which time I learned what life must be like for a pack mule, someone happened to mention that there was also a post office in each of the terminals, but they had closed just 10 minutes before.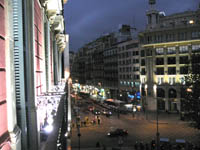 My hotel in Barcelona was right in the center of the city, in Plaza Catalunya. It just so happened there was a shuttle bus that went from the airport almost directly to the hotel for just a couple of Euros. However, I had so much luggage that I didn't fit on the bus. So I had to pay 50 Euros for a taxi to the hotel. The cab driver spoke English and was very friendly and cheerful, but I was simply too exhausted to carry on a conversation. During the drive to the hotel, in spite of my weariness, the beauty of this magnificent city took my breath away.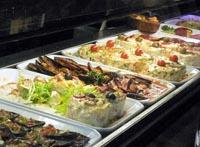 I spent most of the afternoon sleeping and studying Spanish, and being completely lazy. I didn't have the energy to venture out into a new city on my own. Finally, I made my way to the restaurant/bar next door, where they had an interesting selection of tapas I could order by pointing. Everything looked more interesting than it tasted, since most of the dishes had to be re-heated in the microwave before serving. But I finally found caracoles (snails), which I had been looking for since my first trip to Spain back in May 2005.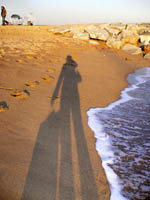 The shopping in Barcelona was great. Once I found a post office and shipped a big box home to the US, I had plenty of room to finish my Christmas shopping. The hotel had high-speed internet in the first floor lounge, and around 11am each day, they brought out complimentary pastries and croissants, and opened a bottle of Champaign. In the next few days, I ate wonderful meals, spent an afternoon at the sea, visited a couple of museums, and even met a few interesting people.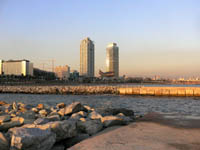 Shortly after I arrived, I had been asking myself why I had wanted to leave the comfort of Sevilla, just when I had everything figured out. But I'm thankful I had an opportunity to experience this amazing city.