After suffering through and barely surviving my first week of Spanish classes, I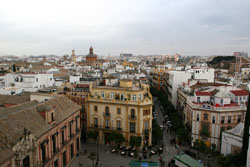 decided that it didn't really matter how much Spanish I learned or what level of fluency I achieved before returning to the US. Even without trying, I was guaranteed to learn more in a few weeks in Spain than I could have learned in a few months in the US. The most important thing was to enjoy Spain...

Rather than trying to memorize everything, I would create crib sheets to use in my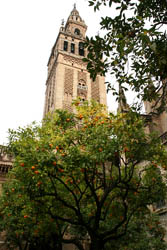 Spanish class. Instead of missing out on great food because I couldn't read the menu, I would ask for the English version. And whenever I needed a break from Spanish, I would curl up on my sofa with a warm blanket and some microwave popcorn, and watch an American movie on my laptop computer.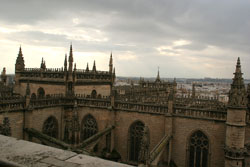 At lunchtime, while other students were filling up on boring little sandwiches and cheap tapas, I was enjoying the Menu del Día at the finest restaurants I could find. Ah...the menu del día. Spanish restaurants typically offer a set 3-course afternoon meal, including drink and bread for 8-15 Euros. In fact, I think they are required by law to offer these sorts of lunch specials, even if the price is too low to make a profit.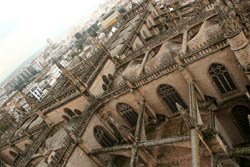 They say that dining alone is the #1 fear of solo travelers. However, during the many years I traveled alone for business, my love of great food always won out over any awkwardness I might have felt eating alone...especially when my company was paying the bill. Over the years, I've learned not only to tolerate it, but to truly enjoy the experience. When I dine alone, I can savor the unique flavor and texture of the food, uninterrupted as I drift away into my own thoughts.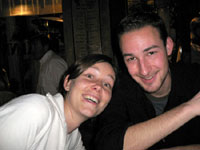 After a leisurely lunch, I always made time for an afternoon stroll or a little shopping...or maybe a siesta (afternoon nap). Of course, I also managed to fit in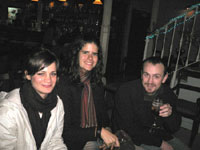 homework and a little studying before meeting my amigos for a drink or an evening show. Since nightlife in Spain doesn't get started until at least 10pm, there was always plenty of time for everything.

Here are a few of my favorite eateries in Seville:
Taberna del Alabardero, C/Zaragoza 20 (near Plaza Nueva). Excellent menu del día for lunch, with fresh soups and salads, delicious meat and fish courses, and heavenly desserts. For dinner, highly recommend the chef's tasting menu with wine pairings. Our waiter, JuanJo, was very friendly and explained each course in English, always happy to consult his gastronomic dictionary when he needed to find the right words to describe such things as "parsely-infused risotto". A bit pricey compared to other restaurants in Seville, but well worth it and still cheaper than fine restaurants in the US. One note of caution: the wines paired with the 6-course tasting menu were mostly local jerez (sherry); absolutely delicious and expertly paired, but with about twice the alcohol content as typical white wine.

Cafe Duplex. Great food & service, bilingual staff. Located in Barrio Santa Cruz. From Calle Alemanes, make a right on Placetines and curve left through the Plaza behind the Cathedral. If you take the most direct route to Calle Aire, you are sure to pass it on the corner (I think it's on Abades). Popular with locals; minimal tourists. This was the one place, close to my apartment, where I could always find good Spanish food served at all hours of the night with a place to sit and eat. Highly recommend the the stewed bull's tail and spicy goulash tapas, although everything I ate there was delicious.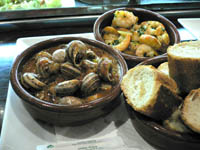 Bar Caracoles, near Plaza de la Alfalfa. As you approach the building with the Plaza de la Alfalfa street sign on it, turn right and you will run right into the restaurant. On C/El Rincon. Great outdoor eating area. This is a great little restaurant, and very cheap. Don't expect to find any English-speaking staff or English menus, but consistently great local cuisine and seafood. The menu del día always has one really great dish and one deep-fried course, which is not so good. So my recommendation is to order the main course of the menu del día, along with a plate of your favorite shellfish for the perfect 2-course lunch.