On the last day before Chris returned to the US, we went on a CLIC-organized excursion to Itálica, to explore the ruins of the oldest Roman settlement on the Iberian peninsula.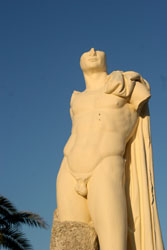 It was fascinating to be in the midst of something so old, and to walk right through the bedroom of someone who lived thousands of years ago. The level of access was great, especially in the old coliseum where there were a number of passageways and tunnels and places you could climb around...

After the excursion, Chris and I were both pretty tired. But Chris had not yet experienced any sort of flamenco, and I was determined to get him to the most authentic show I could find before he left Spain.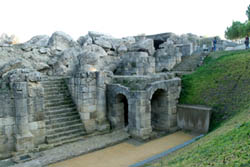 In an obscure Seville magazine, I had found a calendar of events that listed a peña flamenca show in the Macarena area that night. It required a bit of detective work because no details for the venue were listed, other than the name. When we got to the street, it was dark and appeared to dead-end without any sign of a club or restaurant. However, just before we gave up and turned back, we found the Peña Torres Macarena. We walked into a room full of folding chairs, surrounding a small stage. The chairs were placed very close together, without even enough room to squeeze in between rows.

Just beyond the main room was a small bar area. Not too many people had arrived by this point, so it was easy to order a couple of cervezas, for 1 Euro each! It was the best service I had received anywhere in Spain. I was served right away, and with a smile to boot. Normally, to get a drink at a bar I would have to bully my way through the crowd, only to be openly ignored at the bar until all Spaniards in the vicinity had been served first.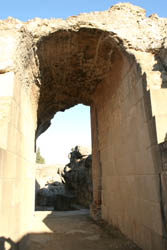 We marked our seats with coats & scarves, as other people were starting to do, and then returned to the bar area to sip our drinks and observe the scene. It was very different from the typical tourist venue in Seville. As soon as people started lighting up cigarettes, it instantly reminded me of a VFW hall in America…badly lit and smokey, full of middle-aged men and women, with almost no one under 30. Most were somewhat dressed up, with women in dresses and scarves and men in blazers.

The show was scheduled to start at 10pm, but didn't get going until at least 10:30. Before anyone came out to perform, the emcee spoke for a few minutes about how great peñas were for learning about flamenco and then gave a lesson on what we would be experiencing that night, but he was speaking much too fast for me to understand any of the lesson.

The guitarist came out first to play by himself, and then he was joined about 5 minutes later by the main singer. After a few more minutes the two 'backup singers' came out, and the first set ended with the first backup singer doing a song & dance number that was a real crowd pleaser. Apparently some of his friends were in the audience (obviously all aspiring flamenco artists themselves) a few rows behind us and were quite vocal. They disappeared after the first intermission. I don't know if they were asked to leave because they were being disruptive, or if they left on their own.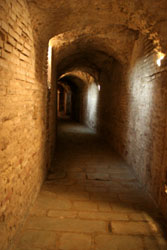 After what seemed like a really short first set...less than 20 minutes, it was time for intermission. About 10 or 15 minutes into the intermission, they rounded everyone up as if the show was about to start. But then there was another delay because the guitarist hadn't finished eating backstage. The emcee apologized for the delay, and the crowd was very understanding. Soon the guitarist came out, licking his chops and drinking from the one glass they had all been sharing onstage during the first set. They played another 15-20 minute set and then left the stage, returning a few minutes later for a 10 minute encore.

There had been no flashy costumes or colored lights, but the performers were clearly very talented musicians who were thoroughly enjoying their little 'jam session'. During each set, the main singer was the only one with the foresight to bring a fresh drink with him onstage, but within a few minutes it was being passed around to quench the thirst of all four performers. During intermissions, the performers would all smoke like crazy, just before getting up on stage to do some of the most vocally demanding songs.


I couldn't help feeling like I was crashing a party at someone's house. Everyone seemed to know everyone else, and there were almost no foreigners in the room. As the night went on, everyone got drunker and more jovial. It was the most friendly and cheerful gathering of Spaniards I encountered during my entire trip to Spain, which is saying a lot because Spaniards are very friendly and cheerful. I'm sure if I had come to this place alone, with at least one more week of Spanish classes under my belt, I would have been welcomed right into their conversations.