Although I left St. Louis with about a month remaining in my beginner Spanish class, I was determined not to be placed into the absolute beginner course at the CLIC language school. In spite of my severely limited vocabulary and even more limited knowledge of verb conjugations, I knew that it would be wasting precious time if I had to learn the Spanish alphabet all over again. Anyway, it wouldn't be the first time I had ever skipped a prerequisite...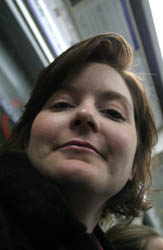 The first day of class, I had to take a placement test. I admitted to the evaluator that I hadn't studied any past tense (which was a requirement), but I begged her to put me into the pre-intermediate course anyway.

I should have been more careful what I wished for.

The morning went by easily enough, with walking tours around school & around town. Then I went to my first conversation class. It was a disaster. There were two women who were on their third week of language holiday...one of whom was a German and French teacher from Switzerland who spoke 5 languages. There were also two British women new to the class this week, but they had each been living in Spain for more than a year.

Lost and intimidated doesn't even begin to describe how I was feeling for the next two hours. I understood about 20-30% of the conversation, even when people spoke slowly and repeated themselves often. It seemed like everyone else in the room understood at least three times more than me. It was at that point I significantly lowered my expectations for the language holiday. I went from hoping to become conversational by the time I left Spain, to hoping to survive without any permanent damage to my psyche.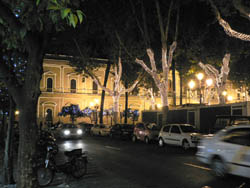 After class, I was completely exhausted, but my cupboards were bare and I needed to go to the supermarket. I made the mistake of buying too many things in glass jars and bottles, and though most of it fit into my backpack, my back & shoulders were still aching from the 4600 mile (7500 km) journey the day before. To make matters worse, a few wrong turns in my neighborhood turned a 15 minute walk into about 45, but finally I made it home. I barely managed to put away groceries and eat a jamon sandwich before collapsing onto the sofa for a much-needed siesta.

By the time my husband, Chris, arrived in Sevilla on Wednesday of the first week, I had struggled through 6 hours of conversation class, 4 hours of grammar (conducted entirely in Spanish), and countless headaches. But it didn't feel like I was making any progress. I was really looking forward to skipping classes on Friday and heading to London for a weekend holiday away from my holiday.