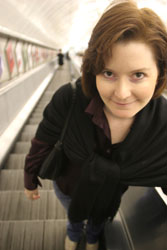 It was such a relief to wake up on the Friday morning of my first week in Spain, knowing I was about to get a 3-day break from all things Spanish. I wasn't ready to leave Spain for good, mind you. But my first week had been so intense I thought my head might explode...

One of the greatest things about being in this part of the world is that there are so many different countries you can visit, just for a weekend getaway. My non-stop round-trip flight from Seville to London was barely over USD $100 and took less than two and a half hours to get there.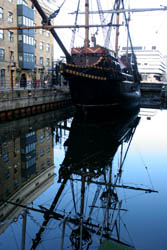 London has some of the greatest shopping in the world, especially for men. In the US, particularly in St. Louis, there is very little supply or demand for stylish designer men's clothing. So my husband, Chris, was thrilled to visit Selfridges for the first time and find a men's department that contained about 5 city blocks worth of clothes from his favorite designers. In the end, he found the perfect velvet blazer at the Zegna store, and I found all sorts of things at TopShop, Selfridges, and Zara. We both decided that it would be worth a trip to London at least once every year or two...just for the shopping. But maybe next time we would try to avoid the chaos of Christmas shopping season.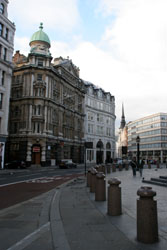 As is typical whenever Chris and I travel together, the only priority other than shopping was eating. London is known for its Chinese and Indian food, so that was a given. And of course we couldn't leave England without tasting some genuine sticky toffee pudding. At first, Chris had in his head that he needed to find fish & chips, wrapped in yesterday's news...like in the Elvis Costello song. But later he realized that eating an old newspaper full of deep fried food didn't actually sound all that great.

On Friday--Indian food night--we were planning to go to this great little place called Chowki, where I had been a couple of times and knew would be great. But in my still exhausted state, I convinced Chris to go to an Indian restaurant just down the street from the hotel. It was decent, but nothing too memorable.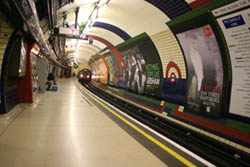 Saturday we slept in and then headed to the half-price ticket booth in Leicester Square. We managed to get great seats for a delightful one-man show called 'I am my own wife'. In addition to the rare treat of seeing a great show in an amazing old theatre, I was able to share with Chris my very favorite thing about London theatre--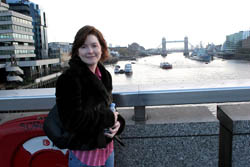 ice cream treats during intermission! There is something about seeing a bunch of respectable adults, in their suits and ties and eveningwear, munching on sundae cones and ice cream cups in the middle of an elegant, centuries-old old theatre that makes me all warm and cheery inside.

After the show, we decided to find some Italian food for dinner, and stumbled across a cute little place with fresh seafood and pasta…but no sticky toffee pudding. We had assumed this is what English folk had for dessert every day and were astonished that we still hadn't found any. So after dinner, we set off in search of this elusive dessert.

We scanned menu after menu, posted outside restaurant after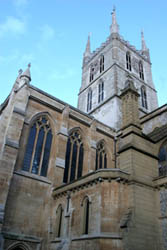 restaurant. Many had some sort of toffee or pudding…but no sticky toffee pudding. Finally, as most restaurants were closing for the night, we found one that was still open and had exactly what we were looking for. We sat for more than an hour, at a small table by the window, near a warm fire, sipping Armagnac and savoring the sweet, gooey taste of victory.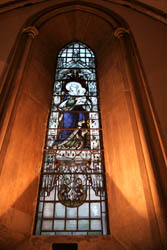 Sunday morning, after we checked out of the hotel, we decided we should probably do some sightseeing before we left town, especially since Chris had never been to London before. We knew that anyone who might ask us about the trip would be asking us what we saw, so off we went to see some stuff. We walked across the London Bridge, to the Southwark Cathedral. It was a beautiful little church, and we got there in time to hear the choir practicing for the mid-morning service. We walked around the city a while, and eventually made our way back across the Millennium Bridge to St. Paul's Cathedral. London really is a beautiful city, especially the view from the south bank, looking out across the River Thames.

It was almost noon, so we headed to Leicester Square to meet some friends for lunch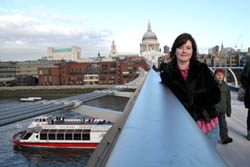 in London's Chinatown. The food was delicious, especially the crispy duck. In America, Chinese food is probably the cheapest food you can buy; in London, it was about 4 times as expensive. They don't call London the most expensive city in the world for nothing. But as with most things in life…you get what you pay for.

An amazing thing began to happen during my completely English weekend. I started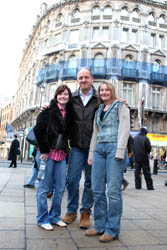 thinking in Spanish! By Sunday, at least half of the silent conversations in my head were in Spanish. I was spontaneously narrating to myself the things we were doing, what we were seeing, and how I was feeling. My Spanish wasn't perfect by any means, and I had to look up quite a few words in my Spanish dictionary. But I couldn't wait to tell my stories out loud, to someone who actually spoke Spanish. It was going to be much harder to tell the stories the next day in class, since by then everything would have become past tense. But I was determined to do my best.