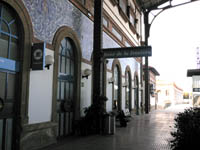 Since there were no classes on the Immaculate Conception holiday, it seemed like a great day to venture out on my own. I had been wanting to see the dancing horses show in Jerez, which was just an hour away, and I had also found some information about some sort of festival that might be going on in a small town nearby called San Lúcar de Barrameda...

The information I had found on the internet was a bit sketchy and potentially out-of-date, but it sounded like it might be the final day of an equestrian week festival in San Lúcar, with horse racing and jumping contests on the Calzada beach, alongside a gastronomic competition featuring local dishes made with garlic.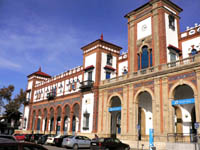 So I set off on the 9am train from Sevilla to Jerez. The train station in Jerez was clean and new and was in a beautiful building in the same plaza as the bus station. I looked around for information about possible bus service to San Lúcar, and asked a few people if they knew anything about the festivities. But I didn't find anything, and no one knew anything.

On the main road by the equestrian school, there was one souvenir shop and a little cafe selling coffee and jerez (sherry). But they both looked like major tourist traps, with little tourist kids running around screaming, and tourist parents buying them whatever they wanted. So I wandered around until I found a small bar, away from the main road, where I enjoyed a quiet cup of coffee and watched a few minutes of a Rodney Dangerfield movie, dubbed in Spanish.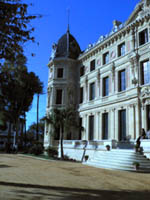 With still plenty of time before the horse show started, I decided to check out the grounds of the equestrian school. However, once I got in, I realized they kept the tourists confined to a small area, and you had to buy a separate ticket to get into the Equestrian Art Museum. So I just walked around in a circle on the only foot path that wasn't blocked off, and took a few pictures.

As it got closer to showtime, the crowds started pouring in. Being surrounded by tourists is never a great thing, but these tourists seemed worse than average, without even a hint of class or good taste. They were all exuberantly taking pictures of each other with their digital cameras and camera phones, in front of every tree and building, and buying all of the souvenir trinkets and trash they could find. On the way to the bathroom, I passed an American man, upset about something and yelling in English at the poor lady taking tickets. There was a long line for the women's bathroom, and by the time I got in, most of the toilet paper was gone, and the bathroom was trashed.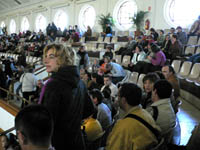 About 30 minutes before the show, they let us in to our seats. The people around me didn't seem very interesting, so I used the time to have a number of lively Spanish conversations in my head, telling myself stories about what I had been doing during my time in Spain. It was a great opportunity to practice some of the new verb tenses I had just learned.

The show started off with mounted horses prancing around the ring, in several beautiful gaits that I had never seen before. They criss-crossed to and fro, "dancing" to music that sounded like it might have been recorded by a military band or high school orchestra. I remembered seeing the music on sale in the gift shop. It was probably a big seller with this crowd.

After a few minutes, it struck me how unnatural and forced all of it seemed. Sure, any trained animal is doing something unnatural. But there was something about this show that seemed extreme. I've always loved the spirit of the horse, so powerful and majestic, each with its own unique character and personality. But in this show, the horses seemed more like marionettes, broken in spirit, responding only to the tight reins and sharp whips of their riders who were controlling their every movement. Whenever they were being worked from the ground, there were two handlers per horse, each with long reins and whips. And throughout most of the show, there was a steady stream of white foam frothing from the horses' mouths.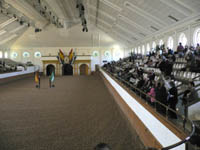 To be fair, I should mention that I am biased toward the Western style of riding and handling a horse, which anyone in this part of the world would probably view as sloppy and unrefined. The crowd seemed really pleased with the show throughout, and I talked to someone later in the week who knew one of the riders and said that the horses were treated well at the school.

After the show, I decided to spend some time exploring Jerez before I headed out of town. I thought about going to the part of town with all of the sherry bodegas, which Jerez is famous for, but the swarm of obnoxious tourists headed that way compelled me to walk in the opposite direction, back toward the train station. In the 30-40 minutes it took to get to the train station, strolling through major thoroughfares and neighborhood streets, I didn't find a single interesting restaurant to stop in for lunch. I did pass the tourist office, however, where I stopped in to ask about the horse races in San Lúcar. They hadn't heard of any races in December, only in August. At that point I decided that if the tourist office of a town less than 15 miles away hadn't heard of the festivities, either they weren't happening or they would be very lame. So I scrapped the idea of going to San Lúcar and bought a ticket for the next train back to Seville.

Although Jerez didn't turn out to be my favorite town in southern Spain, I really enjoyed the day. It was nice to walk around in the beautiful weather, and I had lots of opportunities to practice my Spanish.