Nearly 12 hours after I left Saint Louis, I arrived in Madrid. I had about two hours to pick up my luggage and get to the Atocha train station to catch the AVE train to Seville. Another two and a half hours after that, I would be "home".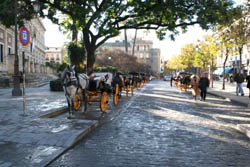 I started to get a little nervous when I couldn't get my Spanish cell phone to work. I needed to call my landlady to get the keys to my new apartment. I was able to call her from a payphone, and I managed to muddle through my first Spanish conversation. I didn't understand what she was saying, but all I really needed to tell her was that I had arrived in Sevilla and would be there soon...

The same agent who had booked my Spanish classes had also found me this apartment. When she emailed me pictures a few weeks before the trip and asked me if I would like to take the apartment, I mistakenly thought she was giving me a choice. But when I asked her if there were any other options, she made it very clear that the choice was to take this apartment, or find one on my own. So I took it. It turned out to be a really great apartment, especially when I compared notes with other students at CLIC.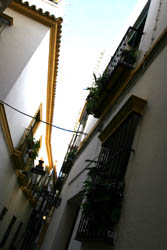 The taxi dropped me off at the beginning of my street, and I walked up and down a couple of times searching for building #9. Finally, I heard a woman calling out from a second floor terrace, asking if I was looking for #9. It turned out to be my landlady, María. She let me in & gave me a tour of the apartment, and told me what I'm sure were many useful tips and instructions in Spanish. The only thing I understood for sure was that electricity was very expensive and I should always turn the lights off when I leave a room. She must have felt very strongly about this, since she repeated it (and demonstrated it) at least 5 times during the short tour.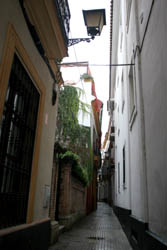 The apartment was stocked with nearly all of the essentials...with the exception of toilet paper. There was only one roll, and it was nearly empty when I arrived. It didn't seem like a major problem until I realized that all of the stores were closed on Sunday, and there was no place to buy any. So I had no choice but to steal some from a public restroom nearby.

The shower in the apartment had great water pressure, and about 6-8 minutes of hot water. My first shower after the long journey ended quickly and frigidly, but after a few days I figured out how to stretch the hot water supply enough to survive. I would turn the water on & off repeatedly during the shower, and would give up some water pressure to stretch it even further. It seemed like a hassle, and it got a bit cold when the water was off. However, later I learned that everyone in Europe knows this trick, and it's only us wasteful Americans who would ever dream of standing under a hot shower at full blast while we're soaping up or putting shampoo in our hair.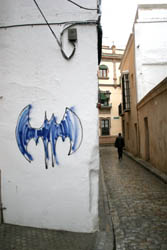 The only other small problem I had with the apartment was the morning I got trapped inside the building. My husband, Chris, had come to visit for a week and I only had one set of keys. There were 3 keys--one to get into the building, one to get past the entry hall, and a third to get into the apartment. So I left him the keys and headed for school, assuming I could buzz myself out through all of the locks. However, after I made it into the entry hall and shut the gate behind me, I realized that the front door was locked in some way that the buzzer wouldn't unlock it. So I couldn't get out, and I couldn't get back to the apartment. The intercom was outside the front door, so I couldn't call up to the apartment. After about a minute of trying to figure out what to do, I started yelling up to Chris, hoping he would hear me from the apartment, where he was still in bed. After about 5-8 minutes of yelling, progressively louder and more desperate, he finally heard me and came down to release me from my cell.

It was the second time I had been trapped inside a building in Spain, counting the time I got trapped in the public restroom at the train station (see Why Spain?). I guess in spite of all the economic development in Spain over the past few years, they haven't gotten around to enforcing fire codes.