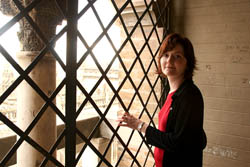 My love affair with Spain began in May 2005, when I spent two weeks in Madrid for an MBA class in International Marketing. During that trip, even though I didn't speak the language, I was determined to venture out on my own. I had enjoyed traveling alone all over the US, and in the UK and Japan...why not in Spain?



After 5 days in a virtual English cocoon, living with and going to school with a bunch of rowdy Americans, I was ready to set out on my own to experience the 'real' Spain...
I took the fast train (AVE) south from Madrid to Sevilla, and sat across from a friendly Spaniard named Max who spoke great English. He was a maritime lawyer in Cádiz who also played in a flamenco band. What I didn't realize at the time was that he would be one of only two English speakers I would meet, with the exception of the hotel staff, the entire weekend. He tried to explain to me the beauty and complexity of the flamenco music he loved, but most of it I did not really understand. It was great to see his passion for his music, and for his country as he pointed out the window to the beautiful Spanish countryside with rolling hills and endless olive trees. He was also passionate about sailing, and described each of the towns along the southern coast in terms of its wind. When I mentioned I would be visiting Cádiz, he said it was very windy there...Jerez is better.

Sevilla was an amazing city! A beautiful city with gorgeous sun and great shopping, and very interesting people. Even though I couldn't understand what anyone was saying, they were very friendly and always seemed to be enjoying themselves.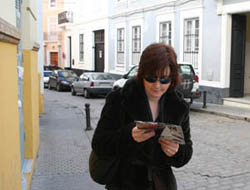 I arrived in Sevilla on Friday evening, and the concierge at the hotel helped me map out a "typical" Sevilla night out, with a series of restaurants & tapas bars to visit in historic Barrio Santa Cruz. I walked to Santa Cruz and easily found the first place on the list, where I sat down at a table for a tasty plate of stewed bull's tail. The menu had English subtitles, so everything was easy enough. The plan was to progress through a series of bars, having a tapa and a drink--and hopefully interacting with a few people-- at each one. I was also determined to try some caracoles (snails), since apparently May is the month for eating caracoles in Andalucia.
By the time I got to the second bar, it was packed with people and had its tapas menu scribbled on a chalkboard (with no English subtitles). So I decided to pass on the food and just order a cerveza. As I stood outside the bar, cerveza in hand, listening for any hint of an English conversation in the crowd, I felt really out of place. It was interesting to watch Spanish people interacting with each other, having a great time...for about 20 minutes. But after that, I just felt awkward and alone. So I finished my drink and set off to find the next bar on my list. I wandered around for a while and then stopped in some other place that looked interesting. It was even more packed with people.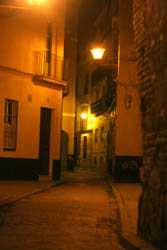 After repeating the drill and still not hearing any English, I decided it would be better to find a Flamenco show, where I could just sit back and watch the show. So I asked a few people, in the best Spanish I could muster, where the nearest Flamenco shows could be found. After a few attempts at communication, I realized that the Flamenco shows were near the river, and apparently I was
not
near the river. So I decided it was time to give up and find my way back to the hotel. That's when I realized just how lost I was and how difficult it was to find my way through the narrow winding streets that run through the Santa Cruz neighborhood. So I spent the next 30-45 minutes getting even more lost while trying to find a taxi. Finally, I found a taxi and made my way back to the hotel. As I was walking into the hotel, I heard some sort of party going on just down the street and decided to check it out.
In a parking lot near the hotel, there was a sound stage setup with people dancing and singing, and there were some street vendors grilling food that smelled tasty. So I bought a stick of grilled pork and sat down to watch the "show". By this time it was well after 2am, but there were quite a few people still partying strong, including a number of kids under 10 years old...some looked as young as 3-4 years. The band was leading the crowd in line dances, getting everyone to dance and sing along. The only song I recognized was the Macarena, which is done differently in Spain than in the US, but recognizable nonetheless. The others appeared to be the Spanish equivalent of everything from the Electric Slide to the Hokey Pokey. It was quite entertaining to watch, but after a while I decided it was time to call it a night.
The next day, I shopped for a while in Sevilla, and then headed to the coast, to check out the beaches and to go horseback riding. When I got to Cádiz and called the horse stables to find out exactly how to get there, I found out that they were not located in Cádiz at all, but about halfway between Sevilla and Cádiz...in El Puerto Santa María. So I had to get back on the train and meet the horse guy at the station in El Puerto. Although this may sound simple, everything is more difficult when you can't communicate.
It took me at least 10 minutes to figure out how to use the payphone at the station, to call the horse guy to let him know I had arrived. And while I was waiting for him to pick me up, I got trapped in the public restroom with a very heavy door that swung inward to open, but with no doorknob on the inside. I didn't know how to say 'help' in Spanish...or 'open the door'. So I just banged on the door and yelled 'Perdon!' until an old man finally opened the door to let me out. He seemed intent on giving me some sort of lecture about how I shouldn't get myself trapped in bathrooms or something, but I didn't understand what he was saying, and I was worried I might have missed the horse guy. Shortly thereafter the horse guy showed up to take me to the stable, and he even spoke English...fluently!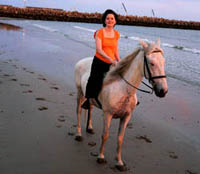 There was one other person on the horse ride, who spoke only Spanish, but the horse guy, Jesús, was kind enough to try to entertain us both...switching back & forth between Spanish and English so neither of us felt left out. We rode along the beach just as the sun was setting, and then finished the ride through the woods in the dark. It was a bit strange, but I was just happy to be on a horse and to be having a conversation in English. I had been feeling so alone and isolated...and stupid. I hadn't been able to order food or ask for directions or get anyone to understand what I was saying.
After the ride, I sat at a picnic table and had some Russian potato salad and a cerveza from the stable bar. The stables were actually a combination riding school and padel school for kids, and there was a padel tournament going on. So there were hundreds of kids (or what seemed like hundreds) swarming all around, yelling and carrying on. But all of that faded into the background as I continued my much-needed English conversation. That's when I realized I knew absolutely nothing about Spain, as Jesús talked about Spanish life and the Spanish Civil War, and about someone named Franco, whose name I had heard somewhere, but I had no idea who he was. But the topics of conversation didn't matter in the least. The important thing was that I understood every word...even if I didn't always know what he was talking about.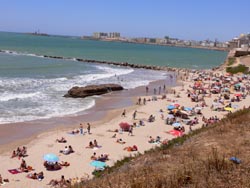 On Sunday, my plan was to enjoy the beach and to do a little shopping and sightseeing. However, everything is closed on Sundays. So I walked around a bit, and decided to find some seafood for lunch. I was determined to eat caracoles before I left Andalucia, or at least some sort of interesting shellfish. Cádiz was known for its great seafood...surely I could find some. So I stopped in a cute little restaurant across from the beach that had caracoles on the menu, but apparently they were out of caracoles...either that or, for some reason, the waiter couldn't bring me any right then. So I ordered steamed mussels or clams instead. I even looked up the words in my Spanish dictionary, so I felt confident that I had ordered some sort of shellfish. However, when the food came, it turned out to be Russian potato salad. They must have a consistent recipe throughout Southern Spain, because it tasted almost exactly like the potato salad I had for dinner the night before in El Puerto Santa María.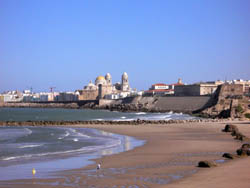 I spent some time on the gorgeous beach in Cádiz, and then headed back to Madrid. Somehow, I had managed to spend an entire weekend on and around the southern coast of Spain without eating any seafood. However, by then I had grown accustomed to surprises in restaurants, and I was always happy just to get something to eat. I think I lost 5-8 pounds (2-3.5 kg) during my two weeks in Spain, at least in part because it was so difficult to figure out how to order food.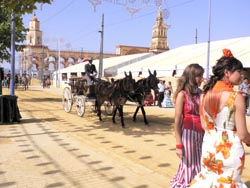 The following weekend, just before I left Spain, I had an opportunity to experience the Feria in Cordoba. For those of you who don't know, a feria is a huge party: festival, fair, carnival--all in one. Each town has its feria during a different week in the summer. During the Feria week, local businesses close and everyone dresses in traditional Spanish costumes and comes out for dancing and singing and drinking and eating, and to ride their horses (also in costume) around the fairgrounds. It's amazing to watch.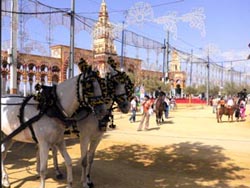 They also have bullfights every day during the Feria, and I was able to see one while I was there. Just before the bullfight, I was having a drink at a nearby bar and met a couple of friendly old men who didn't speak English, but who were determined to keep me entertained before the fight. After about 30 minutes of "conversation", the only thing I understood was that one of the men had been to America to have heart surgery at the Mayo clinic. And the only thing I was able to communicate to them was that I liked Spain and thought it was a beautiful country...and to let them know where I would be sitting at the bullfight.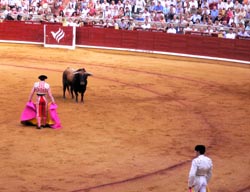 I had read the first part of Earnest Hemingway's Death in the Afternoon, and I had been to a bullfight in Madrid during my first week in Spain. In addition, I had seen several televised fights in Madrid. So I understood most of what was going on in the bullfight in Cordoba, even though I couldn't understand what the announcer was saying. One matador really stood apart from the rest, and after killing his second bull, he was given both of the bull's ears and took a well-deserved victory lap around the ring while everyone cheered and waved their white hankies in the air. It was really quite exciting.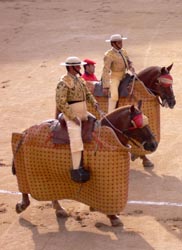 Before I knew it, it was time to leave Spain. I couldn't help wondering what my experiences in Spain would have been like, if only I understood the language. It was certainly a humbling experience to feel so utterly incompetent...but I didn't have to understand Spanish to appreciate the beauty of Spain or the passion of its people. Because I couldn't experience Spain through language, I was forced to pay even closer attention to everything else that was going on.
From the little girl in Cordoba, dressed in a beautiful (full length, long sleeved) flamenco dress in the hot sun,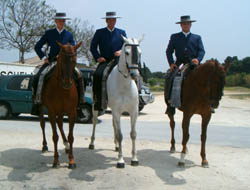 holding on to her father's hand and smiling while sweat streamed down her face...to the men dressed in their traditional riding suits and hats, proudly riding their horses around the fairgrounds, without even a glance toward those of us on the ground...to the families with their children, singing and dancing in a parking lot at 2am...it was clear how much importance Spaniards placed on their culture and traditions, and how much passion they had for life.
Read More...